For many traditional men, shaving every day is a necessary grooming activity, except when growing a full beard. Hence, the use of aftershave is a daily ritual for most people. But shaving daily comes with some discomforts.
So how do you keep your body feeling good after shaving? Investing in the best aftershave is an effective way to protect your skin from shaving issues. It'll prevent unnecessary irritation and skin infections that may surface after passing a razor across your face.
Aftershaves block opened pores on your face, preventing entry of harmful bacteria. They also save you from stubborn acne that may cause distasteful looks. But choosing the right brand is a great challenge for many people.
With our carefully researched aftershave reviews, you'll be confident to choose a suitable brand. We've compiled everything you need to make your shopping stress-free. You also get a detailed buying guide and much more. Let's go!
Best Aftershaves
1. Proraso Aftershave Lotion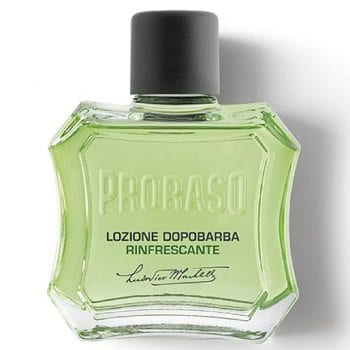 Proraso aftershave lotion helps cool off the skin after you pass a blade across your face. It promotes skin healing while exuding a sweet fragrance. This product revitalizes the skin and prevents acne build-up.
This traditionally formulated product contains the right selection of organic ingredients that promote natural healing after shaving. Application after shaving will make you feel toned and refreshed. No wonder, there is a ton of positive testimonials touting its efficacy.
Unlike many other lotions, its scent doesn't linger for a long time after usage. The mild scent you perceive after shaving isn't overpowering and doesn't repel people away from you.
Proraso's aftershave lotion is more like the old school products that deliver an open-pore sensation. The brand has a lesser sting compared to many of its competitors. Its subtle smell ultimately complements a great shave. Since 1948, this product has been a favorite of world-class barbers.
2. Lather & Wood Shaving Co Best After-shave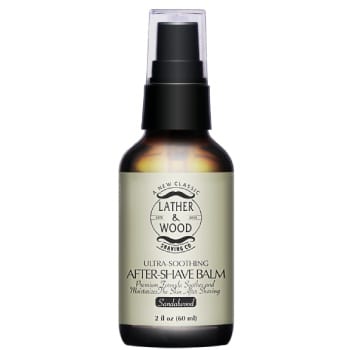 Lather & Wood Shaving's aftershave is a quality product that gives far-reaching cooling to your face after shaving. It's a non-stinging product that caters to irritated skins. This formulation is ideal for anyone with sensitive skin.
This lotion is made from purely organic ingredients and is suitable for any skin type. Irrespective of the razor you use, this product leaves a smooth, healthy glow after shaving. With over 2,000 reviews on Amazon, this product actually delivers as advertised, although results will vary.
If you're trying to stay off lotions that irritate and burn, this product will make an ideal investment. It features a masculine and refreshing scent that's mild and does not linger for too long on your face.
It is particularly suitable for aggressive shaving techniques. When you apply this lotion after straight razor shaving, you get a soothing and calming sensation on your face.
3. NIVEA Men Sensitive Post Shave Balm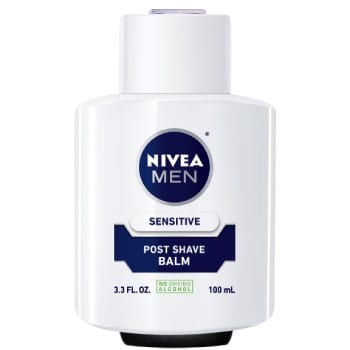 The Nivea men sensitive post shave balm is another formula that enriches the skin after shaving. Its formulation, which includes Vitamin E, Chamomile, and Witch Hazel extracts were designed with the pesky-skinned in mind. The product rids the skin of irritation, especially after a straight razor shaving.
This post-shave balm helps to improve the skin's defense against infection time passes. It can also reduce the occurrence of itches and redness under the chin. This product is non-greasy and has a pleasant, non-lingering scent that keeps you refreshed.
The balm also moisturizes the skin after shaving and leaves your skin with a soothing feeling. Plus, the heavy formulation ensures you have no greasy residue on your face. Because it contains no alcohol, your skin doesn't feel overly dry after applying the balm
While this is a quality aftershave balm, ensure you keep the product out of the reach of children.
4. Old Spice Classic Scent Aftershave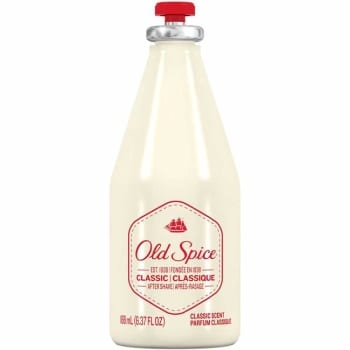 Chances are your dad and grandfather splashed Old Spice's aftershave on their faces years back. From the name, this authentic aftershave exudes a distinctive male scent, bringing back nostalgic memories. Applying it to your face delivers a crisp and clean skin texture and that classic distinctively American smell.
This formula has hundreds of positive feedback from users who love the lovely, non-lingering fragrance it delivers. Not only does the product come in an elegant bottle, but Old Spice provokes positive emotions. Plus, the brand isn't pricey, which makes it affordable for most people.
This carefully made lotion usually comes in a bottle of 6.37 ounces. However, many buyers say what they get from online stores is a smaller 4-ounce bottle. Nevertheless, it's a quality product that leaves the face refreshed after application. The Old Spice classic scent aftershave is simple, classic, and delivers a much-loved masculine experience.
5. L'Oréal Paris Skincare Men Expert Hydra Energetic Aftershave Balm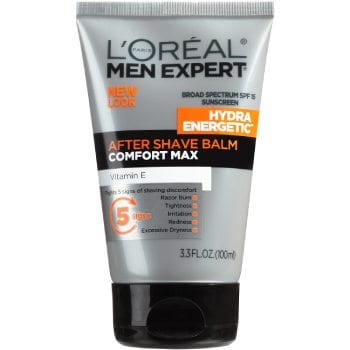 The French company L'Oreal is one of the powerhouses of innovative skincare and beauty products. Its Men Expert Hydra Energetic aftershave balm prevents shaving-induced skin issues like irritation, razor burn, tightness, excessive dryness, and redness.
With SPF15, this product is suitable for use as a sunscreen, protecting you from the sun's UVB (burning) rays. However, this will require liberal use, which may reduce its longevity. It comes with a mild masculine scent that leaves you smelling nice.
This aftershave formula is ideal for men with sensitive skin that gets dry after shaving. When applied on a freshly cut face, it moisturizes and hydrates the skin, keeping it fresh and cool. L'Oréal even claims this aftershave balm has anti-aging powers, helping you look younger for longer.
Combined with charcoal, this brand rids the skin of dirt and excess oil. If you have skin issues, this aftershave may be an effective solution to your problems.
6. Proraso Aftershave Balm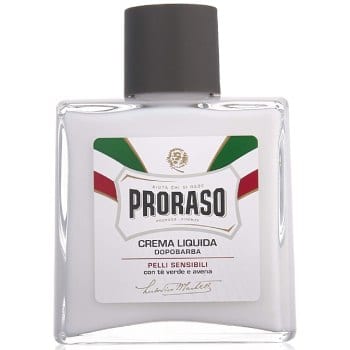 Another quality aftershave from Proraso, this product provides immediate coolness after aggressive and gentle shaves. The balm combines the soothing effects and the moisturizing features of a cream to enhance men's skincare. This product features a hint of the refreshing scent of apple and lime, delivering a subtle and lovely aroma.
This balm contains about 91 percent organic ingredients, which makes it ideal aftershave for sensitive skin. It won't clog pores, keeping your skin free of acne and irritation. It's a non-sticky aftershave that has a masculine but non-overpowering fragrance.
This lotion can also prevent you from getting eczema, itchiness, and other skin issues related to shaving. It is fortified with Oatmeal Extract and Green Tea, which deliver a soothing and calming sensation after shaving.
For the best result, massage this balm into your face after shaving to improve absorption. The product is free of animal ingredients, silicones, parabens, mineral oil, or SLS.
7. L'Occitane Soothing Cade Aftershave Balm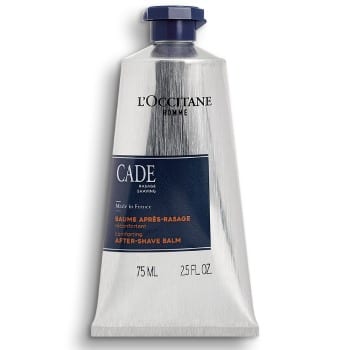 The L'Occitane soothing cade aftershave balm can help reduce razor burn, tightness sensation, and prevent the appearance of redness.
This specially designed formula has an incredible blend of shea butter and birchwood sap extract, which provides peerless aftershave comfort. If you have sensitive skin, this product can help you deal with shaving-related irritation.
This balm soothes nicks and breakouts after manual or electric shaves. It also features the company's proprietary CADE formula comprising essential oils from rosemary, Immortelle, sandalwood, and juniper. This powerful blend replenishes and purifies the skin.
This moisturizing balm delivers total care for a man's skin needs while giving off a subtle scent. You can apply this aftershave balm any time of the day, even after shaving at night.
L'Occitane's aftershave balm is a bit on the expensive side, but the quality and effectiveness is worth it. Plus, it's a sure way to smell like your grandfather.
Aftershave Buying Guide
There are reputable aftershave brands that don't disappoint, but some products may be deceptive, especially when shopping online. This aftershave buying guide will help you choose the best brand when shopping for a quality post-shave product.
This guide will show you the most important things to consider before paying for any brand. It also covers the most important features and specifications to look for before buying.
4 Considerations When Buying Aftershave
Here are crucial things you need to check when buying an aftershave.
Type of Skin

It's important to know the types of aftershaves suitable for different skin types. They include:

Normal Skin:

Gels and balms are perfect for those with healthy skin. These products deliver a soothing and refreshing sensation on the body. They are also easy to apply.

Oily Skin:

Lotions are suitable for oily skin. They contain a lot of alcohol, which causes the skin to dry and contracts the pores. If you don't have an oily skin, a lotion aftershave may cause discomfort.

Dry or Sensitive Skin:

People with dry, patchy skin are better off with a balm aftershave. The balm is the longest lasting because of its heavy texture.

Balms contain very little alcohol, which allows them to moisturize and last on the skin for longer. However, balmy aftershaves can leave a greasy residue on your face which can block skin pores. To avoid this issue, choose a product that your skin absorbs easily.

If you have sensitive or dry skin, it's best to avoid any aftershave that contains alcohol and astringents. Choose products that are moisturizing instead. Also, people with sensitive skin should avoid aftershaves with parabens.

If you have oily skin and use an alcohol-based aftershave, choose one with moisturizing effect. You will need to rehydrate your skin since the aftershave removes the oil that locks in moisture.

Ingredients

Aftershaves can have natural, organic, or artificial ingredients. It's always better to choose natural-based brands because they are gentler on the skin. One of the most common ingredients in natural aftershave formulas is witch hazel. Witch hazel is a natural astringent that works on the pores of your skin. It constricts the pores while preventing skin dryness. Witch hazel is present in most types of beauty products. This powerful organic substance has a soothing effect on the skin. Another function of witch hazel is that it rids the body of bacteria that may cause acne.

Alcohol is another common aftershave ingredient many men and women have been using for years. Alcohol is a disinfectant that can protect the skin against infection while also purifying it. This ingredient helps prevent the growth of harmful bacteria that may result after shaving. However, it's sensitive to the skin and often causes dryness and irritation.

Since you'll apply the aftershave on your skin, make sure it contains no harmful ingredients. Steer clear of products with additives and artificial scents or dyes as these can cause allergic reactions. If you have sensitive skin, the quality of your razor can make a huge difference in your shaving experience. We advise you to get the best disposable razor to reduce cuts and ensure ouch-free shaves.

Fragrance

When you're buying an aftershave, the fragrance is another important factor that should influence your decision. Many of these brands will have delightful scents but ensure you look for the following things in the fragrance.

Duration of Fragrance

How long does the scent last? Duration is a function of the ingredients and your skin type.

Oils are the major ingredients in fragrances; it exudes scents more quickly if applied on dry skin but takes a while on oily skin. Hence, choose an aftershave with a scent suitable for your skin type.

Type of Fragrance

Another thing you need to know regarding fragrances is the type. Common types include citrus, oriental, floral, and woody. A quality fragrance will have three layers, including are the top, middle, and base fragrances. Choose a product with a desirable scent.

It's best to buy an aftershave with a mild fragrance. That way, people won't feel overpowered with the scent when they come close to you.

Absorbability

Another vital factor to consider when choosing this product is the rate of absorption. Aftershaves spend a long time on your skin. You want a product your skin can absorb quickly to prevent residues and skin irritation.
8 Important Aftershave Features and Specifications
To get an aftershave that'll match your needs, look out for the following features and specifications:
Alcohol

It's common to find alcohol in many aftershave products. The ingredient acts as an astringent to help tighten back those opened pores after shaving.
Alcohol is an antiseptic that prevents the growth of any bacteria that can cause harm. However, you might have issues with alcohol if your skin is sensitive.
Alcohol-based aftershaves cause excessive skin dryness. This leads to issues such as irritations, especially to sensitive skin. If you have sensitive skin, you may want to look for a non-alcohol-based brand.
When you check the product, you'll find the alcohol expressed in any of the following forms.

Ethanol
SD alcohol
Denatured alcohol
Methanol
Ethyl alcohol
Isopropyl alcohol

Acetates

Another feature to look out for when purchasing an aftershave is acetate. This ingredient is present in millions of skincare products, including aftershaves. Research suggests that acetate in skincare products can contribute to dermatitis, a serious skin condition.For sensitive skin, you may have to avoid any brand with this ingredient and opt for another that's skin-friendly.

Phthalates

Phthalates are used to soften plastics in industrial manufacturing and have found their way into many aftershave products. Ensure you avoid any brand with these harsh chemicals.

Here are some side effects of over-exposure to phthalates:

Reduced sperm count
Shrunken seminal vesicles
Testicular atrophy

Mystery Fragrances

There are several aftershave brands that won't mention their fragrance in the ingredients list. What this means is that there may be some fragrances that contain harmful chemicals, which the brand is hiding.
You want to avoid ambiguous aftershaves that refuse to list their fragrances. These fragrances may contain harsh compounds that cause irritation and other skin problems. Products with the below ingredients may not be ideal for your skin too:

Aldehydes
Toluene
Benzene derivatives
Petroleum

Witch Hazel

Witch hazel is another common feature of many aftershave lotions; it serves as an astringent agent. Unlike alcohol, this anti-inflammatory compound is natural and poses no harm to the skin.
This ingredient is present in many commercial health products. It repairs the skin after shaving, providing a soothing sensation. This organic substance also prevents skin irritation, especially if you shave with a straight razor.
When shopping for an aftershave balm for your sensitive skin, you should check out for this ingredient.

Moisturizers

The purpose of moisturizers in aftershave products is to restore the skin's softness after shaving. One of such moisturizers is glycerin; it takes moisture from the air and deposits it on the freshly cut skin. There is also allantoin, an anti-inflammatory that moisturizes the skin.

Skin Type

Aftershave brands will often list the skin type that should use their product. Check the label to ensure you are buying the right aftershave suitable for your skin.

Scent

You also want to check the scent and the concentration. When in doubt, perform a smell test.
Types of Aftershave
There are four major types of aftershave. They include:
Balm

This aftershave is heavy and helps the skin to get rid of the razor burn quicker. It's ideal for people with sensitive or dry skin and suitable for humid and hot conditions. This greasy aftershave has humectants (moisture preserving substances) that enhance the effectiveness of other ingredients. Balms contain a low amount of alcohol (about 2-5 percent), which makes them perfect for sensitive skin.
A lot of balm aftershave products have coconut, castor, and jojoba oil, which are natural oils used in many skin-care products. It also penetrates deep into the skin after application to provide a cooling sensation.

Splashes

This is a watery aftershave popular among people with oily skin. It contains a careful combination of astringents, toners, and hydrosol. This fluid aftershave cleanses the face and provides antiseptic and antibacterial benefits. Splashes are sensitive to open wounds, which means you're likely to feel the razor burn when you use it. This aftershave usually contains alcohol, which isn't an issue for people with healthy, oily skins. If your skin dries quickly, go for an alternative with a natural astringent such as witch hazel.

Lotion

While still watery, lotions have a higher viscosity compared to splash. But you're likely to find some liquid brands pushed out as aftershave lotion. Aftershave lotion isn't as popular as the other two.

It's important to state that many aftershave lotions use alcohol as the active ingredient. So you will probably experience a sharp sting and a dry skin upon application.

Gel

Gels are like a cross between lotions and balms. They contain less alcohol, which makes them refreshing and soothing. However, they have no oils, which reduces their moisturizing abilities. Gels are ideal for people who have healthy skin.
Shaving soaps are essential for clean, smooth shaves. Here are our comprehensive shaving soap reviews to help you choose quality brands for your grooming needs.
The Importance and Benefits of Aftershave
So what's the fuss about aftershaves? Aftershaves are vital accessories that help men complete their task of shaving.
We provide some benefits of aftershaves below:
Protects the Skin
When you shave, it isn't only the hairs you scrap off. The top layer of your skin follows as well. This makes your face vulnerable to bacteria that can cause acne and irritation.
However, when you apply aftershave, it gives your skin a protective layer against irritation and infection.
If there are cuts and wounds after shaving, the aftershave helps the skin heal quickly.
Provides a Cooling and Refreshing Sensation
You subject the skin to a lot of stress and deprivation when you shave; this makes toning down a necessity. What do you use for that? A well-formulated aftershave is what you need to provide that coolness. This product delivers moisture to rehydrate the skin after shaving.
Keeps Your Face Clean
Another benefit of aftershave is that they help deep cleanse your skin, keeping the pores open. When you apply aftershave on freshly shaved skin, it prevents the pores from clogging up. This fights off acne and ingrown hairs.
Makes You Smell Nice
The masculine scent of aftershaves is the reason many men purchase the product in the first place. Many brands understand this and have, over the years, worked on the scent of their brands. When shopping for an aftershave though, it's always better to choose a mildly scented brand.
Aftershaves vs. Cologne vs. Eau de Toilette – Purpose Comparison
Many men still find it difficult to differentiate between aftershave balms, body sprays, Eau de toilettes, and colognes. Each of these products often has a scent, alcohol, and are applied topically. So it is understandable if they confuse even grooming aficionados.
In this section, we explain the purposes of these products to clear the misunderstanding about them.
Aftershave
As we've explained earlier, aftershave is a substance that you apply on the face after shaving. It can be a balm, lotion, splash, or gel.
There are three major purposes of aftershave, and they are:

To close up the opened pores caused by shaving, thus preventing bacterial infection and irritation
Provide hydration to the skin after shaving
Add a pleasant scent to your face

Cologne
Cologne is an undiluted aromatic product with no known health and skin benefits. However, what it does is to ensure you smell good at all times. The cologne is basically a scented disinfectant.
Eau de Toilette
This is also a product with no documented health benefits or healing properties. It's similar to the cologne but differs because it lasts longer before the scent fades.
Eau de toilette is also called grooming water and often has a lighter scent compared to cologne. People use it to freshen the skin, especially because of its ability to linger for several hours.
Like cologne, eau de toilette has a high alcohol content. So, it may also suffice as a mild disinfectant.
Causes and Remedies for Itchiness after Shaving
People shave their body hair for different purposes such as hygiene, aesthetic, and personal reasons. But passing a razor over the skin can cause itchy and stubborn red bumps. Itchiness becomes pronounced if you used a dull razor or didn't shave correctly.
This section covers the causes of itchiness after shaving and how to solve them.
Causes of Itchiness
Here are common causes of skin itchiness after shaving:
Razor Burn and Bumps

Razor burn is one of the major causes of itchiness. It's a skin irritation that develops immediately after passing a blade over the skin.

When you shave incorrectly, razor burn may occur, eventually causing itchiness. Also, if you shave the hairs without applying a lubricant like cream or gel, you are likely to burn your skin. That burn can lead to itchiness.

Incorrect shaving and poor hygiene can ingrown hairs which can lead to razor bumps. Without proper care, razor bumps will also cause itchiness after shaving.

Folliculitis

Folliculitis is a skin condition caused by a bacterial, fungal, or viral infection. Hair follicles under the skin are responsible for the growth of hair. When the follicles become infected, it results in itchy skin.

Some people are susceptible to this condition, while others are not. The risk of folliculitis increases when you shave against the grain. Symptoms include red spots with painful and itchy sensations on the skin.
Remedies
Here are things you can do to prevent itchiness after shaving:
Avoid shaving with an unclean razor, as this may introduce bacteria and other germs into your hair follicles.
Lubricate your face before shaving to allow the razor to glide smoothly over your skin. Check out this in-depth shaving cream buying guide for the best products to keep your face lubricated while shaving.
Always shave with a sharp razor. If you are using an electric shaver, make sure it has enough charge.
If you can, avoid shaving against the grain.
Maintain good face hygiene. A dirty face encourages ingrown hairs and razor bumps.
Do you know that razor bumps and itching can occur on every part of your body that you shave? Here are some guidelines you should follow when dealing with these regions of the skin.
How to Apply Aftershave
When used properly, an aftershave can save you from razor burns and irritation. It can also prevent bacterial, fungal, and viral infections and make you smell nice.
Here are the simple but effective steps to follow when applying an aftershave:
After shaving, rinse your face thoroughly with warm water.
Pat dry with a clean hand towel.
Pour a little amount of aftershave into your palm.
Rub both hands to ensure even distribution.
Then rub gently and thoroughly onto the surface of your skin.
Area Specific Shaving Guidelines
Pubic Shaving Tips
The sensitivity of the skin around the pubic areas is second to none in the whole body. Also, these regions are prone to excessive moistures and chafing, which can result in itchiness. This means you've to be extra careful when shaving these areas.
Use these tips to achieve a painless and hitch-free pubic shave:
Use a clipper or a pair of scissors to trim down the overgrown hairs before you shave proper.
Apply shaving cream or gel.
Use one hand to tighten the skin gently.
Without rushing, gently shave in the same direction as the hair grows.
Rinse the freshly shaved areas with warm water after shaving
Pat dry with a clean towel.
Then apply a fragrance-free moisturizer to prevent itching.
Facial Shaving Tips
The facial hairs of men grow at a shallow angle closer to the skin. This increases the risk of skin irritation in this region due to ingrown hairs. These tips will help solve the problem of itchiness when you shave the facial hairs:
First, moisten the skin and hair with water.
Apply the shaving gel and leave for two to three minutes.
Shave the hair while ensuring it goes in the direction of hair growth.
Rinse the razor in water after every stroke.
Rinse the face with cold water when you finish shaving.
Then apply a moisturizer and sunscreen.
Leg Shaving Tips
The skin on the legs doesn't really suffer from razor burn because it is much thicker and experiences less chafing. But you may develop razor burns on the legs if you shave with a dull blade or poor technique. Shaving products with harsh chemicals can also cause razor burns after shaving your legs.
Here are ways to prevent this problem:
Apply gels before shaving
Apply a cool compress immediately after shaving
Avoid shaving injured legs
Use a deep moisturizer
Apply topical ointments
Avoid shaving dry legs
FAQs
Here are some of the often asked questions about aftershave:
Q: Can I use aftershave as a moisturizer?
A: Yes, a good aftershave has moisturizing properties. But you should use only a dedicated moisturizer formulated for your skin type. Don't rely on your aftershave to also play the role of a moisturizer; get a quality moisturizer that'll prevent skin against.
Q: What is the difference between an aftershave and a cologne?
A: An aftershave is a skincare product designed to help the skin against ill effects of shaving, such as dryness. This product releases a pleasant scent that fades away within a few hours of application. On the flip side, cologne has no skin or health benefits-it only offers a fragrance that keeps you smelling nice.
Q: How long does a bottle of aftershave last?
A: Well, it's hard to say but ensure you always rinse your face with water before usage. This makes it last a while; you may use it for 6-8 months.
Q: Would this product be suitable for a freshly shaved head?
A: Yes, the purpose of aftershave is to prevent pores opened when shaving from clogging up. The astringent in the product fights against bacterial or fungal infection.
Q: How long does the scent last?
A: Aftershave scent doesn't last for long when compared to cologne. Within a few hours of application, it fades out.
Q: Can you use this before applying a facial moisturizer?
A: Yes, there is no harm if you apply a facial moisturizer after using an aftershave. However, this product is naturally moisturizing, so you need not spend extra on a facial moisturizer.
Q: Can one apply this product to the body-chest area?
A: Yes, you can use aftershave on any hairy region of your body, including the body-chest area. It works well on even the sensitive spots, such as armpits.
Wrap Up
Shaving off the hairs on the face helps you attain a cleaner and clearer skin as it removes accumulated dead cells. It also rids the skin of those pesky and thick hairs that arrogantly sprout out on the face and neck. However, shaving is not without risks, especially if you prefer manual tools like the straight razor.
With the application of the best aftershave, shaving risks such as irritation, redness, dryness, itchiness, and bumps won't be your concern. You'll also feel a cool sensation when you apply this product on your freshly shaved skin.
Buying quality aftershave products can be tasking, though. And that's why we researched the top brands and created this comprehensive aftershave reviews. In the guide, you'll find detailed information on top-selling aftershave brands that have earned the trust of users.
We hope this article will help you buy the ideal aftershave that will keep you smelling fresh all day long.