Regardless of how frequently you intend to use it, one thing is for sure: you'll always want to have the best beard grooming kit at your disposal. It comes handy whether you style your facial hear on a daily basis, or you only care for their appearance when you're looking to impress someone.
These are kits that don't differentiate between a guy who decided to stop shaving one day and a veteran self-stylist. The beard grooming products that you'll find in these kits, from combs and brushes to waxes and artisanal oils, will be enough to clean, shape, and fix the rowdiest of scruff.
As if whatever we have mentioned thus far wasn't enough to make up your mind, these kits go the extra mile. But we aren't going to mention what they offer to sweeten the deal further. You'll have to go through our beard grooming kit reviews to find that out.
6 Best Beard Grooming Kits
1. Jack Black Beard Grooming Kit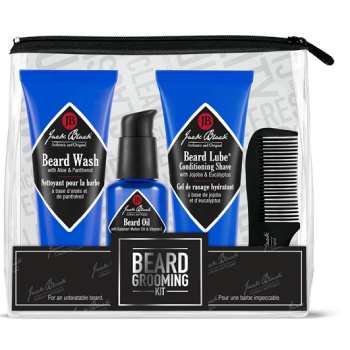 This kit comes loaded with sulfate-free beard wash that cleans, conditions, and softens facial hair. Its beard oil conditions not only the air but also the skin hidden underneath. Also on offer are pre- and post-shave conditioner, with the former smoothening your beard hair and the latter softening them up.
You also get a certified organic beard oil that contains a mixture of antioxidants and vitamins. It helps prevent dry skin and also adds strength to the 'hold' of your beard. The beard comb in this kit is travel-friendly and has wide teeth to tame scruffy beards.
Equally useful to note is the utility of this product for sensitive skin. The absence of any harsh surfactants, as well as parabens, mean people with delicate skin won't face any problem after its application. They can reapply it as many times as they want without facing any adverse effects.
2. FULLLIGHT TECH Beard Kit for Men Grooming & Care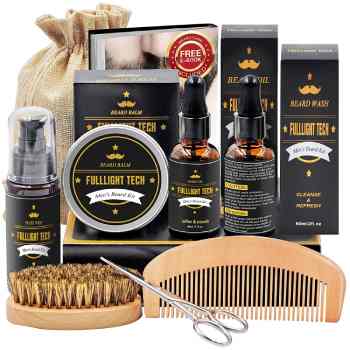 Are you looking for something that would give your beard the ultimate treatment? Then you won't go wrong with this six-piece grooming kit. It is delivered in a premium box that not only protects its contents but also has the elegant finish that gives you a hint of things hidden within it.
Simply because its size makes it too big to miss, the beard shampoo included in this kit will be the first item you'd see on opening its package. It has an all-natural formulation and boasts anti-dandruff properties. You also get a beard balm that moisturizes your facial hair and doubles as a stylist.
Then comes the beard oil. It is made to treat the already present split ends and prevent them from resurfacing, while also softening and smoothening facial hair. The trio of the natural solid wood comb, a hundred percent boar brush, and a pair of stainless steel sharp scissors complete its package.
3. XIKEZAN Upgraded Beard Grooming Kit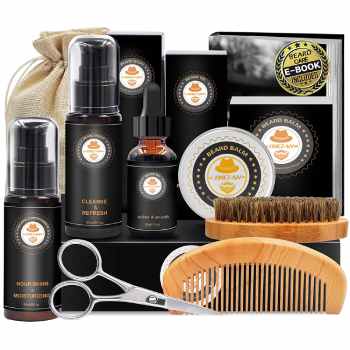 Here is another beard grooming kit comes packaged in a luxury box at no extra cost to you. Neatly tucked within it is the beard oil that reduces itchiness and smoothens out your hair. The included beard balm is formulated to provide shape to your beard and keep it from flying around.
There is nothing in the list of ingredients of its beard shampoo that might force you to raise eyebrows. It will only do its job of removing pollutants from your goatee and won't trouble sensitive or itchy skin. The application of conditioner after the shampoo will further soften and smoothen your beard.
You can take advantage of the boar-bristle brush to evenly distribute every applicable item that comes in this kit. Its sturdy construction and wide-teeth ready the brush to make its way through the scruffiest of beards with a mere stroke of your hand.
4. Naturenics Premium Beard Grooming Kit for Men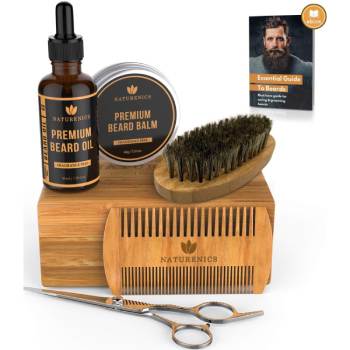 This beard grooming kit is easily one of the most expensive models on the list. You'd have to dive through the items in its travel case to find out the reason why. Everything from the boar-bristle brush to the stainless steel scissor (with a thumb rest) exudes quality.
Most people would come to know courtesy of this kit that brush and comb are designed to serve different purposes. The one with the narrow teeth is the brush, and it will massage your skin follicles. That will force the release of natural oils and benefit your skin.
The brush with its thick and jagged bristles will join its forces with that of your hand to detangle your facial hair. Though you won't be seeing tangled facial hair for the most part. As the trio of beard balm, beard oil, and beard conditioner will smoothen and soften unruly facial hair.
5. Viking Revolution Beard Care Kit for Men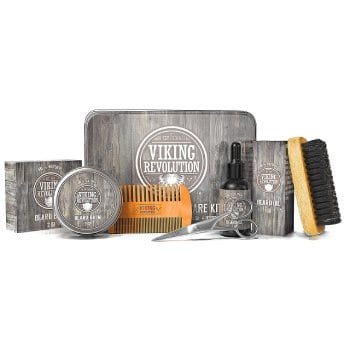 One of the major selling points of this beard grooming kit is the sheer number of items that it contains. You get everything that you may need to detangle your hair, style them, increase their hold, and balance them in this kit. Your barber would be proud to have so many items in possession.
To help you understand why we're going lyrical about the number of items in its kit, they are enough to let you style your beard even if you haven't touched it for months. It has a brush and a comb to detangle your beard, the scissors to trim it, and the beard oil and balm to soften and (later on) style them.
Yet another factor about this kit that we liked was its ability to differentiate between a mustache and beard. Most manufacturers are aware of this difference. Still, they ask you to use the same pair of scissors to style both. Viking Revolution is different as it offers separate scissors for both of them.
6. Isner Mile Beard Kit for Men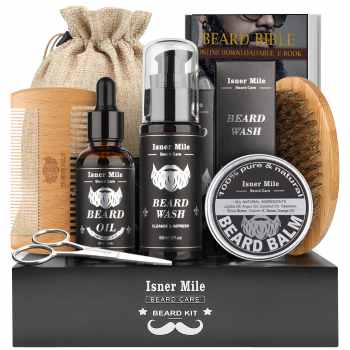 This kit is different from others that you see in this review. It doesn't stop itself at smoothening, softening, moisturizing, and styling your facial hair. The waterproof beard guard that comes alongside it is meant to protect your facial hair. You would never again have to worry about keeping your goatee tidy.
Its beard shampoo is formulated with a hundred percent natural ingredients. These substances won't only moisturize your stubble but also reduce the patchy spots. That's because among them are vitamins and anti-oxidants that will encourage hair growth through the pores on your face.
Aside from that, this set comes with a boar-bristle brush that will help you in your quest to make your beard look neat and tidy. Its handmade comb has anti-static properties and feels sturdy in hand. You also get a pair of scissors, a beard shaping tool, a travel storage bag, and a beard eBook.
Beard Grooming Kit Buying Guide
What is it that you must consider when shopping for a beard grooming kit? Are there any products that you simply cannot afford to miss? This section answers both these questions.
5 Considerations When Buying a beard grooming kit
Ask yourself these questions before you invest in a particular beard grooming kit:
What is the density of your facial hair?
Some people have more dense facial hair than others. If you're one of them, you might want to invest in a kit that comes with a boar's hairbrush. Boar's hair has sebum oil that is natural oil produced by our body and keeps our facial hair from drying out and itching. Another thing that the density of your facial hair will decide is the width of the comb. Those that have narrow teeth are great for those whose beard doesn't get tangled now and then. Wide teeth combs, meanwhile, are designed to tame scruffy beards. You can know more about the combs by going through our beard comb buying guide.
How long have you been styling your facial hair?
Provided you're new to the beard-styling game and have nothing previously in your tool kit that could help you in achieving your beard styling goals, you may want to invest in a kit that comes with all the beard care products and tools that you can afford. Conversely, if you've been self-styling for some time, you'd already have a set of products. Such a scenario makes it unnecessary to go out and splurge your money on items you already have. You can choose to be a bit picky and look for that kit whose products you don't currently have.
What type of skin do you have?
Do you have sensitive skin or one that gets dry quickly or has dandruff issues? Then you must look for aloe Vera in the list of ingredients of your beard kit. Aloe Vera has calming properties that help it soothe sunburnt, irritated, and rash-infected skin.
Do you prefer fragrant or unscented products?<
This is a serious consideration for a lot of guys. Some of them like their oils and balms to have a robust fragrance. They want to smell great once they're done styling their beard. Others, for reasons that we perfectly understand, do not show the same love to fragrances. To them, even the best beard balm will be useless if it contains a fragrance as the smell will put them off.
What is the style/design of the kit?
All beard kits are delivered to your doorstep in a travel pouch, bag, or box. These are packagings that are designed to be seen. Their specific style, however, depends on the brand whose kit you're purchasing. Some of them have their items packaged in flashy, colorful boxes. Others boast a classic style or contain wooden boxes. Still, other beard grooming kits are stored in big containers that are as portable as they are durable. They are aimed at users who travel a lot and want a kit that would protect their items from the cruelties of travel.
7 Most Important Beard Grooming Kit Features and Specs
Here are the necessary items that should be there in your grooming kit:
Beard Oil: As you might already know, beard oil helps in moisturizing hair. It also reduces itchiness, eliminates dandruff, and smoothens out your hair. Most high-quality grooming kits come with argan oil or jojoba oil. In contrast, some blend their oils with vitamins to encourage hair growth.
Beard Wax or Balm: Regardless of how you choose it call it, the beard wax or balm performs three crucial functions concerning your beard. It provides shape to the beard, keeps it in place, and protects it from weather elements such as rain and wind.
Beard shampoo: As we have discussed at length in our beard shampoo reviews, these products help you remove any pollutants or foreign particles from your facial hair. Some of them also have essential oils that cleanse your beard. They are soft on the skin as well.
Beard conditioner: Similar to the hair on top of your head, those that cover your face also require the application of a conditioner once you're done shampooing them. The application of a conditioner hydrates your facial hair and keeps them detangled, moisturized, and smooth.
Beard comb or brush: Do you know that apart from their appearance, beard combs and brush differ in their functionality too. While the former detangles your facial hair, the latter massages your skin's hair follicles to help release natural oils. You'll need both of them in your kit.
Scissors: Make sure the scissors in your kit are of high-quality. The best way to determine that is by looking at their material of construction. Those that are made of stainless steel are incredibly efficient at what they are supposed to do and last for years.
Travel case: Available in multiple forms – cigar box, burly bag, zippered pouch – the travel case is essential as it will help you keep all the items of your kit safe and secure and in one place.
4 Advantages of Beard Care Kits
The following are the benefits of using beard care kits:
Useful for all beard styles and types:
Most people mistakenly believe that these kits are only for those men who sport big, burly beards. That's a lie. They will come to your aid whether you're looking for the classic mutton chops or the post-modern clean-cut.
Take care of your grooming routine:
The best beard care kits come with all the products that are a must-have for your grooming routine. They include everything from lotions and potions to balms and waxes to ensure that you can sport a well-maintained beard.
Comprised of products that complement each other:
While you can always mix and match individual products, won't it be great if someone does that for you? That's exactly what is on offer with the beard grooming kits as their products complement each other's effectiveness.
Affordable grooming solution:
Similar to their counterparts in other industries, grooming kit manufacturers package their offerings cheaper when you're buying them in a bundle. So you have to pay less for all the items than what you had to pay for each of them separately.
Buying a Beard Kit Vs. Buying Specific Products
Should you go out and splurge your money on the whole kit, or will it be better for you to invest in specific products? This section attempts to answer this question.
When You Should Buy a Beard Kit?
There are multiple reasons which, if they apply to your case, might convince you to purchase the whole kit. The purchase of the whole kit may be necessary for you if you need several products. As the total cost of the items in a kit will be less than if you purchased them separately. Aside from getting greater value for your money, you might want to go and buy the whole kit if you like its brand. You could also decide in favor of the whole kit if you are buying it as a gift – as the kit's packaging will make it come across as a better present than individual items. Lastly, some high-end kits contain a long-lasting item that isn't available individually. The item may be a brush, shampoo, or anything else. Provided you feel you need it, you should forego shopping for specific products and decide in favor of a kit.
When You Should Buy Specific Products?
There are only two reasons that may convince anyone to prefer individual products over a full-fledged beard grooming kit. The first of the two reasons have to do with your needs. Some people already have many products in their kit, with only one or two missing. Instead of spending on a kit to make up for missing items, these persons would be better served by shopping for that individual item. That's because there's no need for them to spend a large amount on a kit when a single product could meet their needs. Also, in the rare case scenario that you have purchased a kit and found out that it has an item missing, which is crucial to your grooming routine, it would be better to buy the missing product instead of returning the kit and getting a new one.
3 Reasons You Can't Just Use a Beard Trimmer
Here's why a beard trimmer on its own might not be enough to fulfill your grooming needs:
It will ruin long beard
While you can always use a beard trimmer to shape your stubble or maintain a corporate style beard, you shouldn't take it anywhere near your face if you have a longer, luxurious beard. Know why? Allow us to put our barber apron. One accidental or wrong stroke of a beard trimmer can ruin a luxurious beard that may have taken months to grow out. That's precisely the reason any barber worth his salt never uses a trimmer to shape long beards. They always prefer scissors for the task.
It won't prevent itching
Skin flacking or itching prevents a surprising number of people from growing a beard. They cannot tolerate that uneasy feeling that they think is tolerated by people who sport a beard. Little do they know that beard lovers have a solution to the itching problem.
The solution comes in the face of beard-specific shampoos and conditioners. Both these products are the first items you'd find in any worth-buying kit. They work together to maintain moisture in your beard by keeping it hydrated. That takes care of the itching problem and prevents it from resurfacing.
It won't style your beard
Provided you haven't used a beard grooming product in a while, you can tell by looking in a mirror that there's nothing attractive or stylish about a tangled mess of chin hair. They go the extra mile in putting off the person you may want to attract by attracting dirt and dust particles. A beard trimmer won't be able to do anything about this scenario. But a tool that can properly comb out your chin hair and give them a shape will. That is the final reason why you can't just use a beard trimmer and need a full kit.
How to Use Your Complete Beard Care Kit in 4 Easy Steps
Follow these tips to take full advantage of your beard care kit:
Wash with the shampoo
Pour a small amount of shampoo into the palm of your hand and use it to lubricate your beard. Give the shampoo 1 to 2 minutes to settle in and then rinse it with water. Do not use a towel to dry your beard fully. Pat it with your hands to reduce its wetness.
Condition it with oil
Squeeze the conditioner into your palm and gently massage the oil into your beard. You must apply the conditioner from one ear to the other. You should also apply the conditioner on the skin under the beard as well.
Apply the wax/balm
Use a thumbnail to get the desired amount of wax/balm out of its packaging. Continue to rub it in your palm until dissolved and then lubricate your beard with it.
Brush your beard
Apart from letting you style and groom your beard any way you want, the brush in your grooming kit will massage your skin's hair follicles to help release natural oils. It will also ensure the even distribution of the balm through your beard.
FAQs and Answers
Q: How much beard oil should you apply with each application?
A: The answer to this question depends on the length of your beard. You can use a couple of drops of beard oil per application if your beard isn't extremely long. More can be applied if your beard is longer. Be wary of over-applying the oil as it will give your beard a greasy look.
Q: What is the difference between beard balm and beard oil?
A: The main difference between both is their base ingredient. While the beard balm is made of cocoa butter, shea butter, and beeswax, beard oil is oil-based. Also, while the former is more of a creamy, waxy substance, beard oil flows more naturally. Both of them differ in their application as well. Beard balms come to your rescue if your facial hair is unruly and scruffy. It will keep them neat and tamed while also moisturizing them. The beard oil, however, won't affect the 'hold' of your beard. It's a better fit for you if your beard always stays in place.
Q: Does beard oil clog pores?
A: Simply because they are greasy doesn't mean that beard oils will necessarily clog pores. As premium beard-grooming kits come with the non-comedogenic beard oil that doesn't clog your pores.
Conclusion
When was the last time you took out a few hours from your busy routine to self-care your beard? Don't worry if you can't recall the answer as included above are the best beard grooming kits. They won't care if you styled your beard last hour or last month as they smoothen and style it.
These grooming kits are distinctive because they are the choice of thousands like you. You won't have to believe in an anonymous person writing lyrical reviews on the internet to believe in what they would do in what they claim they would do.
Instead, as you can see by going through the beard grooming kit reviews, they are trustworthy, reliable, and above all meant to tame scruffy beards. You can count on them to help you keep your beard in check on a hot windy day as well on a cold frosty evening.