Unhygienic beards can cause acne but most importantly they can harbor harmful bacteria. That's why it's important to buy the best beard shampoo to keep your facial hair and skin clean. Quality beard shampoos will eliminate skin irritation and oily facial hair.
Researchers have found that there are many benefits to having a beard, such as protection from throat diseases and bacterial infections. But for you to reap these benefits you must keep your facial hair clean with a safe shampoo that's dermatologically tested.
In today's article, we'll be giving you seven beard shampoo reviews to help you find a product for your facial hair. What's more, we've provided a structured buyer's guide at the bottom of our reviews to help you pick the right one for you.
If you're serious about keeping your beard groomed, continue reading to find out more about the benefits of facial hair shampoos.
Best Beard Shampoos
1. Proraso's Single Blade Collection Beard Wash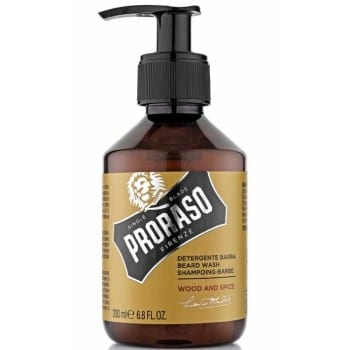 The Proraso's kit is at the top of our list because of all the benefits it provides. This shampoo is gentle on the skin and it doesn't make your beard feel coarse. Proraso's beard wash is formulated to soften your facial hair while removing dirt and dead cells from it.
You'll love how fragrant this shampoo is, containing notes of rock rose with a spice and wood finish. The fragrance gives a sense of tranquillity. Who needs cologne when you have the scent of Proraso's shampoo?
Furthermore, you're guaranteed a quality beard shampoo formulated with natural ingredients. Many barbershops use Prosaro's because of its delicate scent and its ability to thoroughly clean thick manly beards.
Prorsaro also makes their own cologne so if you don't want to mix and match scents, use it with your beard shampoo.
2. Professor Fuzzworthy's Beard SHAMPOO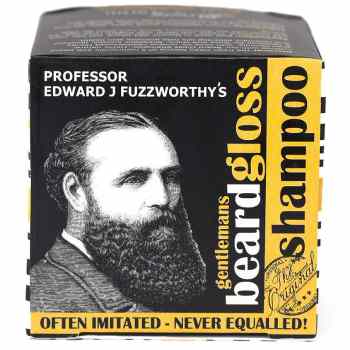 This beard shampoo is one of the top-rated products on the market. This product is a soap bar that deep cleans even the thickest of facial hair. You'll enjoy the rich masculine scent of wood and spice it gives you.
All ingredients used to make the shampoo are 100% natural which prevents skin irritation and dryness for many users. These ingredients include castor oil, honey, and leatherwood beeswax which conditions the beard, making it more manageable. These organic ingredients soothe the skin and promote beard growth.
The beard shampoo is a multipurpose product so you can use it to clean your entire body. To use the soap, simply wet your beard and rub some of the soap into it so you can start scrubbing.
Since this product is made with organic ingredients it's safe to wash your beard with it every day.
3. Viking Revolution Beard Wash & Beard Conditioner Set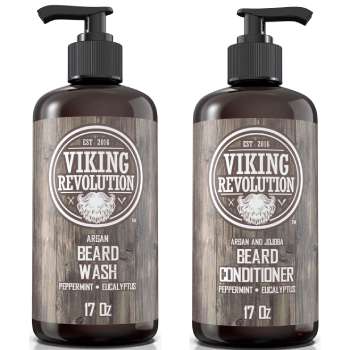 Do you have a coarse beard that's difficult to manage? Then you'll probably need a beard shampoo as well as a conditioner. Viking Revolution has a set with a deep cleaning shampoo and a conditioner to detangle & moisturize your beard.
The Viking Revolution kit comes in three sizes: 5oz, 10oz & 17oz. If you have a longer beard it's advised that you buy the larger set, so you don't run out of product quickly.
This shampoo is formulated to eradicate your beard from dirt and bacteria but most importantly it cleans the skin too. The conditioner not only softens beards but it soothes dry and irritated skin. Both products leave your beard feeling smooth and it gives it a healthy shine.
The Viking Revolution set contains all-natural ingredients with a scent of peppermint and eucalyptus. These fragrances are subtle so they don't overwhelm the senses. This product contains natural oils to keep your beard nourished.
4. Polished Gentleman Beard Growth Shampoo and Conditioner Set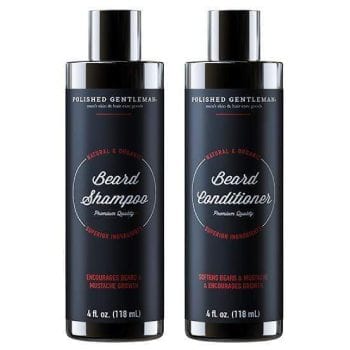 Here's another product that comes with a shampoo and conditioner. This kit promotes facial hair growth which is excellent for those wanting longer beards.
Polished Gentleman's shampoo deep cleans thick beards and can eradicate acne on the skin. The aloe vera extract inside the shampoo soothes the skin and it's a natural antibacterial agent.
For those of you who struggle with coarse tangled beards, use the conditioner to smooth it out. The conditioner softens the beard so it's easy to groom and most importantly it eliminates skin dryness. Also, the conditioner gives your beard a healthy shine.
Men with beards need to have a masculine scent. That's why the Polished Gentleman only uses manly scents in their products such as eucalyptus, Shea butter, and cehami. Natural ingredients are used to condition the beard namely argon and tea tree oil as well as manuka honey.
5. Beard Wash by Mountaineer Brand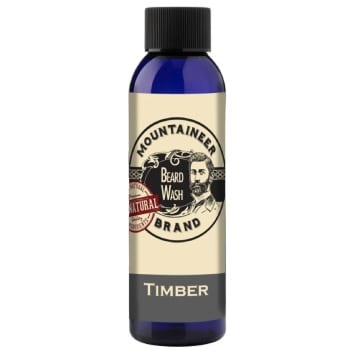 Mountaineer beard wash doesn't strip your skin or hair of its natural oils. Instead, this beard shampoo nourishes your facial hair to eliminate dryness. It retains your beard's natural oils so it's easy to groom but most importantly it reduces frizziness.
The shampoo deep cleans each strand of hair to strip away dirt and impurities from your beard. This shampoo is formulated to clean and hydrate your skin too so it reduces acne & dead skin cells.
This 8oz bottle of shampoo doesn't contain any harmful chemical ingredients that cause skin irritations. It's free of artificial dyes and fragrances too. You'll love that a little Mountaineer beard shampoo goes a long way, so it's an economical product.
The Mountaineer Brand leaves a fresh pleasant scent of timber on your beard. There's no need to wear cologne after using the product because it has a warm and subtle fragrance that's also calming.
6. Bulldog Skincare Beard Shampoo and Conditioner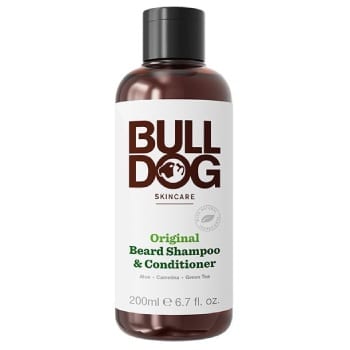 Not all beards are the same but whether you have a dull frizzy beard or one that tangles easily perhaps the Bulldog skincare beard set can help you. The shampoo penetrates deep inside the hair to thoroughly wash each strand but most importantly it cleans your skin too.
It's important to use a beard shampoo that won't damage or irritate your skin. Otherwise, you'll be scratching your face all the time. Fortunately, the Bulldog shampoo protects your skin and your beard from bacteria and dirt build-up.
The Bulldog conditioner is suitable for all beard types. This formula locks in all the natural oils of your beard to keep it nourished. Beard conditioner is also used to moisturize the skin without leaving an oily residue on your face.
Bulldog Skincare uses aloe in their beard shampoo and conditioner to help soothe the skin & it acts as a natural disinfectant ensuring.
7. Billy Jealousy Beard Wash Hydrating Men's Beard Shampoo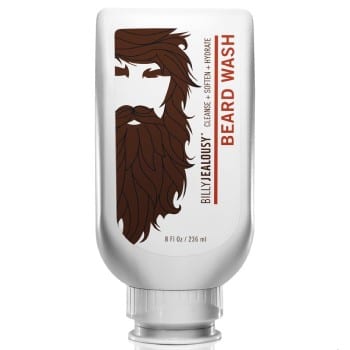 Men with extra-long puffy beards should use Billy Jealousy's products to tame and maintain their facial hair. This beard shampoo is sulfate-free so it won't dry out your facial hair. It's also gentle on the skin so you won't experience itchiness or dryness.
This beard shampoo contains natural ingredients such as aloe that's an antibacterial as well as a conditioning component. The soy protein strengthens your beard and promotes growth. It leaves your beard feeling soft and clean while it also looks shiny & healthy.
The beard shampoo is suitable for sensitive skin. It's formulated to detangle long beards and eliminate frizz. Billy Jealousy shampoo is a deep cleaning agent that will eliminate dirt and bacteria from the thickest of beards.
This beard shampoo has a pleasant woody scent that's mild, calming, and masculine. It's suitable to use every day and eliminates the need to use strong colognes.
Beard Shampoo Buying Guide
The first task before buying your beard shampoo is to read through our buyer's guide. This section gives you important information that you must think about to ensure you get value for money in light of your unique requirements.
The buyer's guide will assist you in making a conscientious decision on which beard product will be an ideal shampoo for you. After the buyer's guide, read through our frequently asked questions and answers to find out about beard dyes & trimming.

5 Considerations When Buying Beard Shampoos
There are certain aspects of a product you must consider before buying beard shampoo. These questions will save you from wasting money on products that may be harmful to you or shampoos that will irritate your skin.
What are Harmful Chemicals to Look Out For?

Not all beard shampoos have natural ingredients in them. Some products contain harmful chemicals that cause dry flaky skin and coarse oily beards. Your beard shampoo must be safe for you to use therefore it shouldn't contain harmful chemicals that can damage your skin. Watch out for these four chemicals in beard shampoos and if they reflect on the ingredients list, perhaps it's best to steer clear of that product:

Phthalates
Formaldehyde
Paraffin
Sulfates

Also, ensure your beard shampoo has been tested and it's certified so you know it's safe to use on your face.

What is Better? A Bar of Beard Soap or Beard Shampoo?

Beard shampoos come in two forms: liquid and bars of soap. These beard shampoos are both effective but the liquid one lasts longer because you can use small amounts at a time. With bar soaps, you can't as easily limit how much of the product ends up being used during each session in the shower.

Also, bars of beard soap can often be used to wash your entire body whereas liquid shampoos are formulated for facial hair only.

Will the Beard Conditioner Make Your Skin Oily or Dry?

Beard conditioners soften the beard so it's easy to manage but some products can cause oily skin. Use a product that contains aloe, Shea butter, or cocoa butter because these ingredients won't make your skin oily. Instead, it moisturizes your skin and prevents acne outbreaks.

Beard shampoos made with natural ingredients won't dry out your skin. It's advised to stop using your beard shampoo immediately if it causes rashes or itchiness.

Do You Need a Conditioning Product Too?

Most beard shampoos are two in one formulated products that clean and condition your beard & skin. So you don't always have to purchase a conditioner with your beard shampoo but some brands offer a complete kit that has a shampoo and conditioner in the package.

How Much Shampoo do You Need?

It's important to purchase a bottle of beard shampoo that will last a while because, in the long run, it's more cost-effective. You don't have to use a lot of products because small amounts of shampoo usually go a long way but if you have a long beard, rather buy a bigger bottle of shampoo.
5 Most Important Beard Shampoo Features & Specifications
Beard Shampoo Ingredients

You should always read the label of your beard shampoo because some ingredients work for various skin and hair types. Buy a shampoo that will work as a moisturizer for dry skin and beards. Some men have oily facial hair and skin in which case you should purchase a shampoo that combats greasiness.

Most importantly, buy beard shampoos that have natural ingredients instead of harmful chemicals. As mentioned above, harmful formulas will strip the natural oils from your beard. So what ingredients are beneficial for facial hair and skin? Let's go through them:

Aloe: This ingredient is a natural antibacterial component that treats acne and dry skin. It's a moisturizer for beard hair too. Use it on frizzy beards and flaky skin. You'll love how it soothes the skin and keeps your beard fresh & clean.
Beeswax: Some men have difficulty styling their beards. Beeswax will not only help you with styling but most importantly it keeps the hair soft and manageable.
Castor oil: Are you having difficulty growing your beard to the length you want? Then buy a shampoo that contains castor oil because it stimulates hair growth. Castor oil also prevents skin infections and moisturizes your beard.
Honey: This golden syrupy ingredient is packed with vitamins and minerals that are excellent for beard hair & skin. It's a natural antibacterial component and a moisturizer. Use beard shampoos with honey if you want a silky smooth beard and soft skin.
Chamomile extract: If you suffer from skin conditions such as eczema use a beard shampoo with chamomile extract because it's an anti-inflammatory. It's a calming oil that supports hair growth, fights skin blemishes, and prevents beard thinning.
Cocoa powder: For a stronger, thicker beard use shampoos containing cocoa powder. This ingredient contains high levels of protein that strengthens beard hair. If you want darker tones in your beard cocoa powder acts as a natural colorant. Cocoa powder also adds beard shine and volume.
Soy wax: This is a common ingredient found in beard shampoos because it helps hold facial hair in place. Soy wax locks the natural oils in your beard to keep it soft and manageable. Natural waxes such as soy will strengthen your beard and give it a healthy shine.

As mentioned before if you have a dry beard and skin then you should use shampoos with natural essential oils to nourish your face & hair.

Peppermint and Eucalyptus are common essential oils found in beard shampoos that not only moisturize them but they have a pleasant fragrance too. This brings you to the next important feature which is the scent of your beard shampoo.

The Fragrance

Fragrance may be the most important feature for some bearded men. If you want your beard to have a pleasant scent then select a shampoo that you think will complement you. Fragrant beard shampoo will also eliminate the need to wear colognes that may irritate the skin.

It's essential that you select a beard shampoo that has a subtle fragrance. It shouldn't overwhelm the senses because it can be uncomfortable for those around you who are sensitive to fragrances. Fortunately, most beard shampoos have subtle fragrances that are calming and pleasant.

Another aspect to remember is that not all fragrances are masculine. If you want a manly fragrance select a shampoo that has woody or spicy scents. The most popular masculine fragrances are:

Basil
Peppermint
Cedarwood
Eucalyptus
Rosewood

Packaging

Packaging of the shampoo adds convenience when you're washing your beard. If you have a simple bar of soap that washes beards then it will be easier for you to apply the product. But if you have a bottle of liquid shampoo the packaging must allow you to easily get the soap out.

Some bottles of beard shampoos come with pump nozzles and others have big caps so the liquid runs out quickly. Pick a product that has packaging that's easy to use.

The packaging of the product prolongs the shelf life of your shampoo. This is especially true if your shampoo is made with natural ingredients. That's why most natural beard shampoos are stored in amber bottles to protect the liquid from UV rays and other environmental exposure.

It's important to check the shelf life of your shampoo because you don't want to use a product on your face that's expired. One aspect to remember is that products that have natural ingredients will have a short shelf life so you must use it within the specified expiration date.

Lathering and Cleaning

Unfortunately, there's no way to test beard shampoos before you buy them to see how well they work. But perhaps you can watch YouTube videos so you can see how well the shampoo lathers and cleans beards.

Typically a beard shampoo with thick lathering deep cleans dense and coarse hair. The shampoo must also be easy to rinse out. High-quality beard shampoo is thick in consistency and you'll only need a small amount of product to wash your facial hair.

Beard Shampoo Kits

Some brands offer full grooming kits. These kits are excellent for beginner groomers because they come with accessories and tools to help you manage your beard. A beard kit will give you a shampoo and conditioner as well as brushes & trimmers.

If your shampoo or conditioner doesn't contain wax you may get this product separately. Wax is an excellent product that allows you to style and manage your beard. Use the trimmers to clean up straggly hairs so that your beard looks well-groomed.
5 Benefits of Using Beard Shampoo
Easy Grooming
Beards are naturally coarse so they can be difficult to groom and style. Shampoos formulated for beards have ingredients such as soy and beeswax to make it easy for you to maintain your beard.
No Itchiness or Dryness
Shampoos formulated for beards have natural conditioners that moisturize your skin and facial hair. These shampoos will eliminate beard dandruff and keep your facial hair silky smooth & soft.
Deep Cleans Beards
Dust, food, beverages, and other types of dirt can fall onto your beard, making it grimy. Beard shampoos deep clean your facial hair so it eliminates germs and bacteria. Deep cleaning beard shampoos are important for keeping your skin clear of blemishes and skin ailments.
Fresh Scents
If you don't wash your beard regularly it can start to emit an unpleasant odor. Fortunately, beard shampoos not only clean your facial hair but it leaves a fresh scent behind too. Select a beard shampoo that has a scent that will complement you and go well with your cologne or deodorant.
Promotes Beard Growth
The natural ingredients in some beard shampoos make your facial hair grow thick and long. So if you have a patchy beard consider using a high-quality shampoo that will help with growth.
Beard Washing Mistakes to Avoid
A common beard washing mistake that most men are guilty of is either washing too much or infrequently. Washing your beard too much often causes dry skin but cleaning it infrequently can form blemishes on the skin and lead to foul odors.
Another mistake is using the incorrect beard shampoos. As mentioned before you must always use a beard shampoo that has no harmful chemicals because it can damage hair and skin.
Also, don't wash your beard at the incorrect water temperature. Water that's too cold won't open up your pores to release natural oils and to clean them out while steaming hot water can strip your beard and skin of natural oils. Lukewarm water is the ideal temperature to use because it opens the pores, thoroughly cleans your hair and skin & it won't cause dryness.
What's the Difference Between Beard Shampoo and Regular Shampoo?
Everyone has different types of hair on their bodies. The hair on your arms, head, and face won't have the same texture & volume. The way you maintain the different types of hair on your body will also differ. So, in short, head and face hair each require different formulas to keep them clean & nourished, which is why you can't always use one shampoo for both types of hair.
There are powerful chemical ingredients in most regular shampoos that you find in stores. These regular shampoos contain ingredients that strip the natural sebum from the hair. Normal shampoo should only be used for the top of your head because it may not be safe to use on your face.
Regular shampoo containing chemicals and parabens can decrease testosterone levels & DHT which are the two main hormones that promote beard growth. Head shampoos have silicone that's supposed to make your hair appear shiny.
Natural beard shampoos with essential oils achieve the same results but without the chemical compounds. Beard shampoos have oils and natural ingredients that prevent your skin from flaking & locks in the natural moisture of your facial hair. These beard shampoos make your beard grow thicker and faster.
3 Reasons Not to Wash Your Beard Every Day and What to Do Instead
Washing a Beard Too Frequently Causes Dry Hair and Skin
Shampooing your beard too much will strip the natural oils from your face. Your beard and skin will feel dry & itchy all the time which can be extremely uncomfortable. Scratching at your beard often will cause it to become dirty quicker.
You may feel that if you don't wash your beard every day your beard and face will appear dirty. However, it's important to only wash your beard every second or third day. Simply using clean warm water to rinse your face in between those days will do the trick.
Causes Split Ends
Longer beards are more susceptible to damage, especially at the tips, when they're washed often. The ends of your beard will become brittle and break off causing the hair to look shaggy.
For a longer beard wash it every second day and comb the hairs. Use a natural beard conditioner to moisturize the tips of the hair. To maintain your look, trim any hairs that appear dry and frizzy.
May Cause Beard Thinning
Washing your beard every day may cause your beard hair to thin out. The natural oils don't have a chance to generate hair growth because the sebum is constantly being stripped away.
Instead, wash your beard less frequently and rinse it with lukewarm water in between. A wise tip is to use a beard wax to protect your beard in harsh environments.
How to Wash a Beard in 7 Steps
Step 1
Beard oils are excellent products to soften and nourish your facial hair. Use high-quality natural oils on your beard two hours before shampooing it. Check out our beard grooming kit reviews to find a brand with oil that will work for you.
Step 2
Use lukewarm water to rinse the oil out of your beard. The moisture in your beard will make it easier for you to lather the shampoo into the hair.
Step 3
Take the beard shampoo you've bought and pump a small amount of the product into your hand and massage it into your beard. Run your fingers through your beard to reach the roots of the hairs as well as your skin.
Step 4
Rinse the shampoo out of your beard using lukewarm water and pat it dry with a clean towel.
Step 5
For this next step, use a conditioner to moisturize your beard and skin. Simply squeeze a small amount of product into your hand and massage it into your beard. Then rinse it with lukewarm water.
Step 6
Pat your beard dry and trim off any straggly hairs.
Step 7
Use a comb to brush your beard and mustache so that it's neat. You can use a beard wax to help you style your beard if you want to look ultra fashionable.
How to Dry a Beard
It's important to pat your beard with a clean dry towel after washing it. Let it air dry and then you can style it using a beard straightener. Look at reviews to find the best beard straightener ideal for your facial hair length and texture.
Frequently Asked Questions & Answers
Q: Are there dyes that I can use for my beard?A: Many brands make safe beard dyes for men. Take a look at our beard dye buying guide to find a quality product for you.
Q: How long does it take for a beard to start filling out?A: Typically it takes two to six months for a beard to fill out. Using a quality beard shampoo can speed up the process.
Q: Can trimming a beard promote growth?A: Trimming your beard can help it grow faster and it gets rid of dead frizzy beard hair. If you want a beard that looks well-groomed it's advised to trim it regularly.
Wrap Up
Now that you've gone through our beard shampoo reviews did you find a product ideal for you? If you have a coarse beard, consider a beard shampoo and conditioner set. The shampoo will clean the beard while the conditioner softens it. There's something for everyone!
All the products mentioned in our reviews are made with natural ingredients that are safe for any skin type. Beard shampoos keep your beard clean and protect your face from harmful bacteria & infections. These beard shampoos moisturize your skin and nourish your beard to eliminate frizziness.
So if you want a beard that's thick, healthy, and clean use the best beard shampoo for your skin type and styling needs. It's worth investing in a product that's safe to use on your face and that will give you the manly beard you've always wanted.