Do you have a sensitive skin that doesn't take kindly to a manual razor? Investing in the best electric shaver might be the solution to staying sharp and clean without pains. Electric shavers are popular among men who need/prefer to appear clean-shaven always. They are handy, long-lasting, and easy to use. Being powered also makes them ideal for travel.
But choosing a quality electric shaver is a bit difficult, even for experienced users. There are so many brands on the market, and the quality ones can be expensive. This makes it essential to read electric shaver reviews to get a feel of the market before shopping. You don't want to spend premium dollars on the product and later regret not buying a traditional razor.
In this article, we provide all the information you need to choose a top-grade electric shaver with confidence. Our buying guide includes electric shaver features and specifications, types, and so much more. Here we go!
Best Electric Shavers
1. Braun Electric Razor for Men, Series 9 9290cc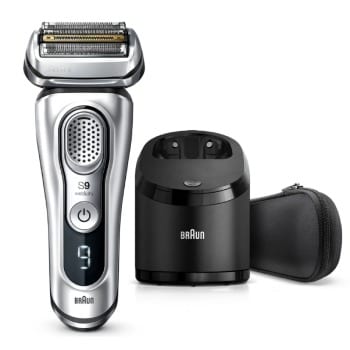 Braun claims it's Series 9 electric shaver is the best in the world. And they have a point. It is feature-rich and 100% waterproof, making it easy to use in any condition.
Series 9 features 5 synchronized shaving elements that deliver a flawless shave with every stroke. It includes two specialized middle trimmers that keep you sharp and fresh with minimal effort.
This shaver is designed to conform to your body's unique contours and beard density. Whether you are shaving dry, with gel or water, the product offers a seamless shave every time. It makes 10,000 sonic vibrations, which allow the shaver to glide easily over the skin.
The shaver produces 40,000 cutting actions, allowing it to capture even the smallest hair with the gentlest of cuts. It is powered by a long-lasting Li-ion battery and has a charging center. This center cleans, lubricates, and charges the shaver with a touch of a button.
2. Panasonic Arc5 Electric Razor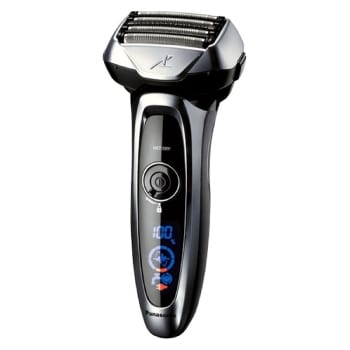 Panasonic holds some of the most important patents in the electric shaver industry. The company's Arc5 features five precision sharpened 30-degree Nanotech blades and super thin Arch foil. These razors adapt to your facial contours to deliver a fast, smooth, and painless shave.
Arc5 is waterproof, which makes it ideal for shaving within and outside the shower or wet places. It also comes with a built-in trimmer that pops up for close detailing of sideburns, beards, and mustaches.
The Arc5 features Panasonic's multi-flex pivoting head that traces the natural contours of your face, chin, neck, and jaw. And the inbuilt shaving sensor detects beard density for optimal cutting power and comfort.
This electric shaver has an LCD battery indicator. It is rechargeable, handy, and ideal for traveling.
It comes with a high-performance linear motor that produces 14,000 cuts per minute. The motor does not lose power even when the battery is at the end of its charge.
3. Philips Norelco AT830/41 Electric Shaver 4500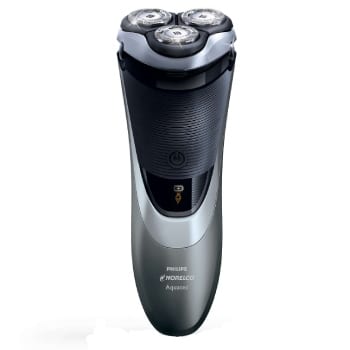 The Philips Norelco Shaver 4500 is designed for comfortable performance whether you prefer wet or dry shaving. This electric shaver comes with Philip's proprietary Dual Precision shaving system, which provides a smooth and painless shaving experience. The appliance is gentle on the skin and cuts shorter and longer hair stubble effectively
The Norelco 4500 features three heads that pivot, flex, and float to conform to your facial contours. This delivers fast and smooth shaves while being gentle on the skin. The Pop-Up trimmer is designed for seamless trimming of mustaches, goatees, sideburns, and other grooming activities.
This Philips electric shaver comes with a long-lasting rechargeable Lithium-ion battery. It can provide up to 50 minutes of shaving time on a single charge.
With this shaver, you need not worry about tangled cables, and packing up for travel becomes less complicated. And despite its ruggedness and impressive performance, the Philips Norelco 4500 is affordable.
4. Remington F5-5800 Foil Electric Shaver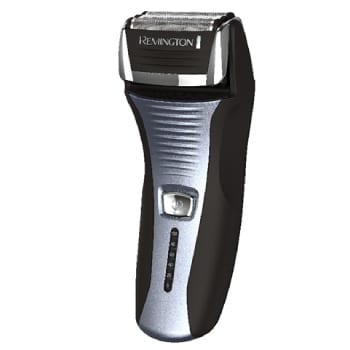 Remington's F5-5800 electric shaver is a foil-based hair cutter featuring the company's unique Intercept Shaving Technology. This advanced feature allows the device to pre-trim longer hair stubbles, resulting in a cleaner and closer shave.
The shaver also comes with the popular Pivot and Flex technology. With this function, the shaver head automatically adjusts to stay close to the natural contours of hairy surfaces. This delivers a clean-shaven jawline, neck, and chin.
The F5-5800 comes with a pop-up detail trimmer for improved grooming. This trimmer allows you to achieve precise results while trimming your beard, mustache, and sideburns.
This foil shaver is ideal for dry and wet shaves. It is waterproof and you can wash it easily under a running faucet after your shave.
You can use it in corded and cordless configurations. The rechargeable battery delivers 60 minutes of cordless shaving and can provide up to a month's worth of grooming.
5. HATTEKER Electric Shaver Rotary Razor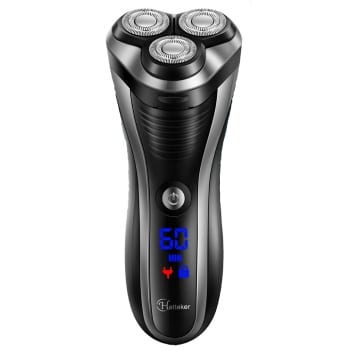 With this product, HATTEKER provides premium electric shaver features at one of the best price points on the market. This product has three 4-direction floating shaving heads that provide fast and comfortable shaves for long or short hair. The blades are programmed to follow every contour on your face, delivering gentle but clean cuts that leave you fresh.
Like high-end top brands, this sub-$30 electric shaver has a pop-up trimmer. The trimmer offers precise detailing of your beard, mustache, and sideburns.
The product is ideal for wet and dry shaves. It has a one-touch open feature that allows you to rinse the cutters easily under a running tap.
This product comes with a 600mAh Lithium-ion battery which delivers a run time of 60 minutes. The pack includes a USB cable that can charge the battery to 100% in 1.5 hours. This shaver also features an LCD display and a one-key lock.
6. MOOSOO Electric Shaver for Men Rotary Razor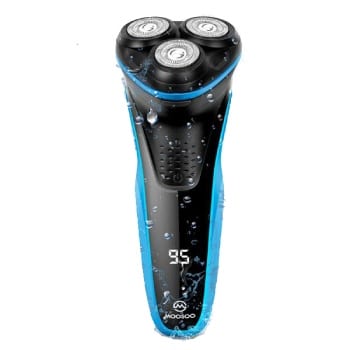 If you love hunting deals, MOOSOO's electric shaver is another affordable option. Despite its cheap price, this electric shaver offers one of the longest battery lives, with 100 minutes of shaving time. The device comes with three 4-direction flexible heads that hug the facial contours for a smooth and comfortable shave.
The MOOSOO electric shaver also features a unique double-ring blade design for increased skin contact. This provides smoother and deeper cuts without harming the skin. The shaver has a 100% waterproof construction, which makes it suitable for wet shaving and washing under a tap.
Charging is via a USB cord which can get the battery full under two hours. This electric razor has a compact and portable design. It is easy to hold thanks to an ergonomic design.
It has an LED display that indicates charging status, battery capacity, and travel lock. A single charge can last for several months.
Electric Shaver Buying Guide
Now that you know the most popular electric shaver brands on the market, how do you choose? Before shopping for cordless shavers, it is important to consider several factors, features, and specifications. That way, you will have a better chance of getting maximum value from your purchase.
In this buying guide, we show you the most important things to look for before choosing an electric shaver.

10 Considerations When Buying an Electric Shaver
An electric shaver can be an essential grooming accessory, especially if you travel a lot. Here are important things to consider before you buy the device:
Price

Quality electric shavers don't come cheap. But that doesn't mean you can't get durable and feature-heavy models for a bargain.

Your old cordless shaver might be way cheaper, but the more expensive newer models are worth their price. They have better features, allow wet and dry shaving, and carry longer-lasting batteries. If you want an electric shaver that will last several years, don't make price the sole determinant of your choice.

Besides the initial investment, consider the cost of replacing blades and foils, batteries, and the cleaning solution. Some brands are notorious for using batteries that do not last long. In some cases, the cost of replacing the battery is almost equal to the price of a new shaver. Don't just buy a quality electric shaver; get one that is easy to maintain.

Type of Facial Hair

Your type of facial hair is an important factor when buying an electric shaver. Is your hair coarse, curly, or flat-lying? Different types of hair grains and the rate of hair growth will affect the effectiveness of any shaver you buy.

People with sensitive skin need to choose an electric shaver carefully. This is especially important if you are predisposed to rashes, ingrown hair, razor burn, and other shaving issues. So before choosing a particular brand, make sure it is ideal for your hair and skin type.

Shaving Habits

You should choose electric shavers based on your shaving habits. In this regard, you can either buy a rotary shaver or foil-based model.

The rotary shavers feature three or four heads that hug your facial contours to deliver clean and smooth shaves. Get a rotary shaver if you have a longer beard or if daily shaving is not your thing.

A foil shaver is ideal for shorter beards and people who require daily shaving. Foil shavers are less likely to cause razor burn, making it perfect for sensitive skins.

Corded or Cordless

Electric shavers can be powered by an electrical cord or battery. The cordless types provide more convenience because you don't need a power outlet to use them. But you have to charge batteries frequently.

Corded models will never die on you in the middle of a shave, barring any sudden power outage.

Wet and Dry Shave

Most quality electric shavers are designed to be waterproof. So you can use them for wet and dry shaving. If your skin is sensitive, being able to shave with a shaving cream provides a more comfortable experience.

People who love faster shaves or have less pesky skin types can always go for the dry shave type. Your best bet is to choose a model that offers wet and dry shaving for faster and easier cleaning. You can rinse the device under a running tap without fear of damaging the components.

Battery Life

Go for an electric shaver that provides long-lasting battery life. The best brands offer at least 60 minutes of shaving time on a full battery.

It is advisable to choose a model with a Lithium-ion/polymer battery. These batteries are lighter, stronger, and deliver peak power until the last drop. However, they can be more expensive. Also, consider electric shavers with fast charging functionality.

Some brands can deliver up to three months' worth of shaving on a full charge. If you travel a lot and prefer to pack light, this should be your target.

Maintenance

The best brands of electric shavers are low maintenance. Some, like Braun's electric shavers, come with a cleaning station because the complicated internal structure makes manual cleaning difficult.

The cleaning station serves as a charger and cleaner. It decontaminates the blades, removes hair, and lubricates them.

Most brands, however, design their electric shavers to be washed under a running faucet. This makes it easy to clean while keeping down the price.

Closeness

You want to buy an electric shaver that can get as close to your facial contours as possible. This will allow it to cut even the shortest stubbles.

Closeness depends on the shaver head design. Both foil and blades can reach very close to the skin, but foils are better for shorter hair.

Comfort

A major reason many people switch to electric razors is the promise of a painless shave. Regardless of the manufacturer's claims, read customer reviews to identify brands that deliver a truly comfortable cut.

Ergonomics

Choose an electric shaver that is easy to hold and use. Many brands make their shavers with a slender body that conforms to your palms. The device shouldn't get hot during use.

15 Important Electric Shaver Features & Specs
Here are vital features and specifications to check before buying an electric shaver:
Number of Foil or Blades

These are the cutting elements used in electric shavers. The number of foils or blades can determine the quality of shave you will get from an electric shaver. But more cutters can also translate to higher prices.

Speed

The speed is related to the number of cutters. The more foils or blades, the higher the number of cutting actions.

For example, the Braun Series 9 has five cutting elements which allow it to deliver 40,000 cutting actions. It can slice hairs as close as 0.05mm, resulting in a clean and smooth shave.

Longevity

Manufacturers specify the number of years their electric shaver will last. Some brands can serve you for a decade, while others may not be as generous. However, longevity depends on shaving habits and maintenance.

Accessories

Many electric shavers come with a variety of accessories, including shaving creams, brushes, and others. The more accessories that come with your electric, the more value you can derive from it.

Waterproof Design

You want to go for 100% waterproof electric shavers, especially if you shave wet. Waterproof devices are easier to wash and maintain, saving you time and effort. They also tend to last longer because their components are protected from water damage.

Blade Type

Choose an electric shaver with affordable and easily replaceable blades. This might not be important now until you need to change the blades and you can't find them. The blades should also be easy to maintain and long-lasting.

LED Display

Many high-end and even some affordable electric shavers feature an LED or LCD display. The display shows the battery capacity, charging status, and other performance parameters.

Pop Up Trimmer

Some electric shavers come with a pop-up trimmer to remove hair on your mustache, sideburns, and other places. This is an excellent feature that will save you money and space.

Travel Lock

A few electric shavers have a travel lock that prevents the device from accidentally switching on while you are in transit. This feature is excellent if you travel a lot.

Quick Charging

Quick charging allows you to top up the electric shaver in less time. This means more battery life at short notice, a splendid thing especially when you are running late.

USB Charger

Top-of-the-line electric shavers come with a charging pod, but the device can be expensive. To cut costs, you can go for models compatible with USB chargers.

That way, you can always charge the shaver almost anywhere, even with your laptop. And you won't need to invest in a specialized charger.

Battery

Choose an electric shaver with a Lithium battery for a higher runtime and increased service life. Lithium batteries are also lighter, so they don't make the shaver heavy.

Floating Shaving Heads

This feature allows the shaving elements to follow the contours of your face, achieving the ideal level of contact to cut hairs close to the skin.

Warranty

Since prime quality electric shavers are expensive, you might as well buy one with a lengthy warranty. That way, you can get your money back or request a replacement if the device performs below expectations.

Case

Brands that offer a carrying case with their electric razor tend to last longer. This is because the shaving elements are delicate and need adequate protection during transportation or storage.

Foil Vs. Rotary Shaver (Pros/ Cons / Uses)
Like we said above, electric shavers can be foil or rotary. Which is better? In this section, we look at the uses, advantages, and disadvantages of the two types of shavers.
Foil Shaver

The foil shaver is so-called because its blades have a foil covering made of thin perforated metal sheets. Hairs enter the perforations to be sliced by the rolling blades beneath.

A foil shaver's blades work like a set of teeth in a back-and-forth motion. This means you have to use them with an up and down or side-by-side movement.

The foil shaver's primary selling point is the ability to deliver a close and clean shave. They are also more comfortable and ideal for people new to electric shavers. A foil shaver is best for short and straight facial hairs.

Advantages of the foil shaver:

More Comfortable
Foil shavers are more comfortable because the metal sheet prevents the cutters from touching the skin. The foils also prevent pulling and smoothen the skin, making the foil shaver ideal for sensitive skin. This also makes it the preferred choice for people who just started using an electric shaver.
Close Shave
The foil's skin-smoothening action allows for close shaving. This makes it suitable for people who have finer hair or prefer daily shaves.
Precision Shaving
Because of the operating mechanism of the foils and cutters, this electric shaver delivers more precise cuts. With a foil shaver, you can reach tighter places such as the hairs growing under your nose.
Saves Time
The up and down or side-by-side motion technique for using a foil shaver makes it a faster alternative to the rotary model. You cover more ground quickly since you don't need multiple passes to remove facial hair.

Disadvantages of the foil shaver:

Limited Flexibility
You can only use the foil shaver in a straight, vertical, or horizontal position. This means the device may not conform with your facial contours. People who prefer shaving with circular motions may find the foil shaver a bit unwieldy.
Can Be Noisy
Many users of both types of shavers complain that the foils are noisier than the rotary models. This is because of the vibration of the metal sheets. But this isn't a deal-breaker; it is only a matter of convenience.

Rotary Shaver

The rotary shaver features circular shaving heads that work independently. Lines in the shaving elements pull in the hairs and cut them close to the skin. The rotary shaver is perfect for longer hairs and the circular motion makes it blend easily with the facial contours.

Advantages of the rotary shaver:

Suitable for Thick and Longer Hair
The rotary shaver is ideal for thick, coarse hairs. If your facial hair grows quickly, a rotary shaver will make an excellent investment.
Ideal for Long Hair
While the foil shaver is perfect for shorter hair, the rotary shaver is more suitable for longer stubbles. So if you don't shave every day or have fast-growing hair, a rotary hair is the better shaver for you.
Quiet Operation
The rotary shaver is quieter than the foil types. If you don't enjoy hearing the whiny noise of the electric motor and the blades, buy a rotary shaver.

Disadvantages of the rotary shaver:

Less Close Shaving
Unlike the foil models, rotary shavers have a hard time getting close to the skin, so you may not achieve the smoothest cut. While electric shavers generally lack the smoothness of manual razors, the rotary trails the foil type in this regard.
May Cause Irritation
The rotary shaver does not smoothen the skin before cutting the hair like a foil model. This can cause irritation and other skin issues, especially if you don't use the device correctly.
Lacks Precision
Rotary shavers are designed to cut hair in a circular motion, which does not deliver precise results. If you need to do precise detailing, it is better to get a trimmer.
Meanwhile, check out our beard trimmer buying guide to help you choose high-quality products for your precision grooming activities.
Electric Razors Vs. Manual Razors
There is much talk about the superiority of manual razors over electric shavers. But electric shavers offer convenience and are more lenient to novices. Here, we look at the advantages and disadvantages of both types of shavers.
Electric Razors

The biggest selling point of electric shavers is their simplicity and ease of use. They are easier to use, especially if you are a beginner. Here are some pros and cons of the electric razor:

Advantages of using electric razors:

Electric shavers are faster than manual razors. Their multiple blades mean you don't need several passes to get a clean shave.
Electric shavers are also more portable and allow you to shave without parking additional accessories. But models suitable for wet shaving may require shaving creams, gels, soaps, and other supplies.
Electric razors are convenient, allowing you to shave anywhere there is electrical power. Battery-powered types offer even more flexibility. Electric shavers can also reduce the risk of cuts and nicks, especially for people who have sensitive skin.
Electric razors are also more flexible. You can use them to cut facial hair and perform other grooming activities.

Disadvantages of electric shavers:

Electric shavers cannot deliver a smooth cut like a manual razor. That means you need to shave more frequently to control your facial hair.
Using electric razors can be painful for a beginner because it takes time for the skin to get used to the blades and the cutting technique.
Electric shavers that aren't waterproof are not suitable for wet shaves. Thankfully, all the models we reviewed are 100% waterproof, so you can use them in the shower and wash them under a running tap.
Electric shavers are louder since they have a motor that moves the blades. Some people may consider this slight inconvenience a turnoff.
You need an electrical outlet to use electric shavers. Even the battery-powered models need charging from time to time.
Electrical razors are much more expensive compared to manual alternatives. And they require far more maintenance. However, quality electric shavers can last for a long time.

Manual Razors

There are so many types of manual razors, including the cartridge, dual-edged razors, and shaving sticks, among others. The major benefit of these razors is their simplicity. But you may need some time to perfect your technique to get the best out of manual razors.

Advantages of using manual shavers:

Most men consider manual shaving the ideal way to get a shave.
Manual razors deliver the smoothest and most lasting shave of all shaving devices. This is because you can get them very close to the hair follicle.
Manual razors are also very affordable and replacement blades and shaving accessories are readily available.
Manual razors are low maintenance and easy to pack with you on travels.

Disadvantages of a manual razor:

It takes longer to shave with a manual razor because you need to apply shaving cream or gel and aftershave products.
You need to replace blades and grooming products frequently, and the expenses are significant over time.
If you are a novice, manual razors can give you cuts and nicks and increase the chance of ingrown hairs.
Some manual razors can be expensive.

Wet Shaving vs. Dry Shaving
Electric shavers are mostly suitable for dry shaving while manual razors allow both dry and wet grooming. Let's find out which of the two methods is better for you.
What Is Wet Shaving?
Wet shaving involves cutting hair with a blade and a lubricant. It is the traditional method of shaving for most men, and still the preferred way for many conservative males.
The lubricant can be warm water, shaving cream, gels, or oils. The essence of wet shaving is to loosen the hairs to make it easier for a sharpened edge to remove them.
In most cases, wet shaving is associated with manual razors. Because shaving with a naked blade is a bit risky, the shaving solution acts as a protective layer between the razor and the skin.
Advantages of wet shaving:
Wet shaving provides the closest shave because it loosens the hair and makes it easier to cut.
Over time, wet shaves are gentler to the skin and preserve a youthful look.
Wet shaves can exfoliate the skin, removing dead matter and dirt from the surface to reveal a fresher layer.
It's more cost-effective because of the relative affordability of razors and shaving solutions.
A wet shave doesn't necessarily require electricity. So you can always shave anytime you like.
Many people prefer a wet shave because of the more enjoyable experience.
Disadvantages of wet shaving:
You need water or a shaving solution to shave.
It is relatively slower compared to dry shaving.
The cost can be high over time, especially if you use cartridges.
You need to buy replacement blades and cartridges frequently.
There is a high risk of cutting yourself, even if you are an experienced veteran of manual razors.
What Is Dry Shaving?
Dry shaving, as the name suggests, is removing hair without lubrication. It is usually related to the use of electric shavers, although many electric razors now support wet shaving.
If you want to dry shave, you can either get a rotary or foil shaver. These devices can be corded or cordless (battery-powered), but we prefer the cordless for their versatility and convenience.
Advantages of dry shaving:
Dry shaving is faster.
It is ideal for beginners because it is more forgiving and the blades are not in direct contact with the skin.
It is more convenient and requires no lubrication.
Dry shaving can be more cost-effective in the long run.
Disadvantages of dry shaving:
Because it doesn't require lubrication, you may experience some discomfort at the early stages of dry shaving.
It does not provide the level of closeness you will get from manual shaving.
The initial cost can be high compared to manual shaving.
You need electric power to use the device.
Replacement blades and batteries can be expensive
Talking about wet shaves, here is an interesting guide on the best shaving soap to get you all trim and sharp.
7 Benefits of Using an Electric Shaver
Here are seven of the benefits of shaving with an electric shaver:
They Are Faster
Are you in a hurry to catch a flight or get to an appointment? An electric shaver is a perfect solution to your shaving woes. Because you can use them without lubrication, an electric shaver is faster, getting you all trim in minutes.
This is not usually possible with manual shavers. With manual razors, you need shaving cream or warm water and careful strokes to get a smooth shave.
More Comfortable
If you are not experienced, manual razors can cut and nick your face and increase the risk of ingrown hairs. Electric shavers, with their shielded shaving elements, can reduce the unpleasant experience to a bare minimum.
This means you can't get the level of closeness of manual razors. But they are much safer and comfortable for the beginner and sensitive-skinned.
Cost-Effective in the Long Run
Electric shavers, at least the premium brands, can be very expensive. But they can deliver years of consistent and reliable service with regular maintenance.
And you need not buy shaving accessories such as creams and gels and replacement blades. Compared to traditional shavers, electric models can be more cost-effective in the long run.
Beginner Friendly
Electric shavers are far easier to use. Thanks to their ergonomic design and operating mechanism, you don't need to spend a month learning the ideal hand stroke to get a clean shave.
Another reason for the ease of use is that electric models do not touch your skin directly. So you can make mistakes without suffering cuts and nicks. However, your skin will still need time to adapt if you used to shave with manual razors.
They Are Convenient
Electric shavers come in a variety of designs that make them more convenient for use. Many have long-lasting batteries and quick charge function for last-minute shaves. Features such as pop up trimmers help you take care of your mustache, beard, and sideburns at no extra cost. You can even charge many electric shavers with a USB cable.
Some models can shave either wet or dry and are waterproof so you can rinse them directly under a faucet. Don't forget that they are lighter to pack since you may not need shaving creams, gels, and replacement blades.
They Are Versatile
Electric shavers can shave almost any hair on every part of the body. You can find dedicated models for men women, young adults, and older people with flaky skin. They are also very simple to use and require less preparation time compared to the traditional shavers.
They Last Longer
Electric shavers can last 5 to 10 years, depending on the brand, use habits, and maintenance. They may be expensive initially, but electric shavers make up for their high price tags in dependable service. And you can even get affordable, yet durable models, although these might not last as long.
How to Shave with an Electric Shaver
Here's how to shave with an electric shaver:
Pre-Shaving Preparations
Before you shave with an electric razor, make sure you are using the right equipment. For example, a foil-based razor is better for close shaves and rotary types are ideal for longer hair.
Make sure your facial hair is not overgrown. Using an electric razor to cut too long facial hair will cause yanking and skin irritation. If you have more than stubbles on your face, cut it short with a trimmer before using the shaver.
You should also try to use a shaving cream designed for electric shavers to boost comfort and get a smoother shave. An electric pre-shave lotion can help prime your skin and hairs for cutting. Also, dry the hair properly so they don't stick to the skin.
It is always better to shave with a fully charged razor. Despite manufacturers' claims their products can deliver peak performance at any power level, you may not get the best results with a low battery.
Shaving
Once your face is primed and ready for the blade, here are the steps you need to achieve a close shave:
Go Against the Grain
When shaving with electric shavers, you need to find and go against the grain. This is the opposite of traditional shaving where you shave with the grain.
To find the grain, rub your hand across your face. The direction that feels rough to the touch is against the grain. And that's where you should direct your electric razor.
Shave at the Appropriate Angle
To achieve the best results with an electric razor, hold it at right angles to your face. This increases skin contact, maximizes closeness, and helps you get a smoother shave in less time.
Use Your FreeHand to Pull the Skin Tight
When shaving with an electric razor, it is important to use your free hand to pull the skin tight. This makes the hairs stand upright and allow the shaver to achieve the closest contact with the base of the stubbles. That way, you can cut them from the base to get a smoother shave.
Perfect Your Strokes
There are different hand strokes for using the rotary-style and foil-based electric shavers. When shaving with the rotary shaver, move the device in small, circular motions.
Foil shavers require up and down or back-and-forth motions to remove as much hair as possible. Over time, you will learn the ideal pressure and stroke length you need to shave different parts of your face.
Start with Sensitive Parts
One major disadvantage of electric shavers is that they get hot quickly. To avoid skin burns, start shaving from the most sensitive areas such as the neck while applying low pressure.
Post Shaving
Here are the steps you need to take after shaving:
Clean the Shaver After Use
For optimal results, always clean and lubricate your electric razor after every use. This not only keeps the blades sharp; it also prevents the buildup of contaminants.
If your model doesn't come with a cleaning station, check the user manual for the best way to clean it.
Also, lubrication reduces wear and lowers the heat the device produces during use. To make post-shaving cleanup easier, go for a completely waterproof electric shaver.
10 Tips for Using Electric Shavers
Here are tips to help you get the best out of your electric shaver:
Prepare your face before using the electric razor. Prep work includes applying sufficient lubrication if you are wet shaving. If you plan to shave dry, don't wash your face or take a shower before shaving.
Apply the minimum amount of pressure you need to cut the hair with controlled strokes. This will prevent cuts and hair yanking and make the experience more comfortable.
Make sure your facial hair is a stubble. Anything longer will lead to pain. Trim longer hairs before cutting with an electric razor.
Shave frequently if your hair grows fast or rough. Some electric razors find it difficult to pick flat-lying hair, but shaving more often can correct the problem.
If you have sensitive skin, wait for the tenderness to heal before shaving. Otherwise, get a shaver that is more forgiving. The problem is that you won't know which model is kinder until you use it.
Be consistent with an electric shaver. To get the best results from electric razors, you need to give your skin a few weeks to get used to the new shaving method.
Clean and maintain your electric razor regularly. Cleaning should be done after every shave. You can buy a spray cleaner and lubricant to keep the blades in tip-top shape. That way, you don't need to buy replacements now and then.
As we said earlier, make sure your shaver has enough battery life before shaving. Notwithstanding the claims of manufacturers, these devices can see a significant drop in performance if the battery charge is below a certain level. This will affect the quality of your shaving experience and results.
Replace blades when they become dull to improve performance and enhance comfort during shaves. Electric razor blades can be expensive, but they also last longer with regular maintenance.
Take care of your face. It's the easiest way to get those clean, smooth shaves. A face that's full of dead cells and blocked hair follicles is not ideal for electric shaving. Wash and hydrate your face regularly to give an electric razor the ideal condition to deliver excellent results.
Myths and Concerns Regarding Electric Shavers
Can You Shave Your Head with an Electric Razor?
Yes, you can shave your head with an electric razor. But you need to do some prep work before the shaver can cut a scalp full of hair.
To cut your crown with an electric shaver, you need a pair of scissors and a trimmer.
The first step is to use scissors to remove as much hair as possible. Next, use the trimmer to get the hair to a length an electric shaver can handle.
Then carefully shave off the remaining hair with your electric razor. This will take time and practice to master, but you can achieve excellent results with patience.
Rub your head with your free hand to identify uneven areas and use a mirror as a guide.
Do Electric Shavers Cause Ingrown Hairs?
No, electric shavers do not cause ingrown hairs. Ingrown hairs, or razor bumps as they are commonly called, result from bad shaving technique and neglect.
Using electric shavers is one of the most effective ways to prevent this problem. Because electric razors do not cut as close as traditional blades, they are less likely to cause ingrown hair. However, the most important factor for preventing razor bumps is to improve your shaving technique and take care of your face.
Do Electric Shavers Exfoliate the Skin?
Yes, electric shavers exfoliate the skin, but their effect is minimal compared to manual shavers. The difference is that the blades of an electric shaver do not have direct contact with the skin, which reduces closeness.
Thus, the electric razor's ability to remove dead cells from your skin is limited compared to a traditional blade.
If you want to reveal a fresh layer of skin after every shave, nothing does it better than traditional blades. However, the shielded cutters of an electric razor offer immense comfort and safety, especially for sensitive skins.
If you fancy traditional shaves, here are in-depth disposable razor reviews to help you achieve that sharp look every time.

Cleaning and Maintaining an Electric Shaver
Cleaning and maintaining your electric shaver will help you get the most out of the device.
Here is how to clean an electric shaver:
After shaving, remove the casing that holds the cutting elements (foils, cutting cassette, or rotary blades) and tap out any residual hair clippings.
If your shaver is completely waterproof, you can now wash the shaving head under running water. For best results, add a few drops of liquid soap, turn the device on and let the soap form a rich lather. This will dislodge any stubborn contaminant in the compartment.
Thereafter, rinse with warm water under the tap for about 10 seconds.
Shake the shaving head and the shaver to remove excess water. Then remove any moisture with a clean, dry cloth. Leave the parts to air dry before coupling together.
If you use rotary electric shavers, it is important to dismantle the shaving unit once in a while to deep clean the shaving heads.
After washing and drying, apply lubricants to the shaving heads.
Keep the electric shaver in a dedicated case to protect the fragile components from damage in case you drop it.
Some models have cleaning stations that decontaminate and lubricate the blades. These use cartridges that need frequent replacements. It is better to wash normally and use the cleaning station for thorough cleaning once in a while to make the cartridges last longer.
How Long Do Electric Shavers Last?
With conscientious use and adequate maintenance, a quality electric shaver should provide up to 5-10 years of service.
The longevity of electric shavers depends on the quality of manufacturing and your use habits. Even if you buy the most expensive brands, you may not get the maximum useful life out of it if you shave every day. The same applies if you neglect the device and do not maintain it.
If you take care of an electric shaver, it can last far longer than the manufacturer-specified useful life. However, you might need to replace the shaving head and batteries after some years.
FAQs and Answers
Here are frequently asked questions and answers about electric shavers:
Do electric shavers cause less skin irritation compared to manual shavers?
Yes, an electric razor is gentler because the blades do not touch the skin directly. This makes electric shavers ideal for people with sensitive skin.
Do electric shavers cause the hair to grow thicker?
No, electric shavers only cut hair. They don't affect the growth rate of hair. However, electric razors cut hair straight, which makes regrowth appear thicker and darker.
Can I cut armpit and pubic hair with electric shavers?
Electric shavers can only shave short hair. The hair that grows in the armpits, pubic region, and legs are too long for the device to work effectively. But if you want to use an electric shaver for that purpose, use a trimmer to get the hair to the level the device can manage.
Can you cut yourself with an electric razor?
Yes, electric shavers can cut and nick your skin, and even burn you. However, they are much safer and comfortable than a traditional razor. To prevent nicks and cuts, go easy on the pressure while shaving.
Wrap Up
There will always be heated debates over the electric shaver and traditional methods. But investing in the best electric shaver promises more comfortable shaves and quicker grooming sessions.
If you need to shave every day or have sensitive skin that gets cut easily, an electric shaver can be a lifesaver. You only have to know the brands that offer the features you need to get maximum returns on your purchase.
However, the electric shavers market is saturated. There are one or two premier brands such as Braun and Philips Norelco. But not everybody can splurge on those high-ticket devices. This is why you need to do your research. Thankfully, our electric shaver reviews provide all the details you need to make an informed buying decision.
Whether you are looking for premium electric shavers or dependable and affordable alternatives, this guide will help you choose a top-quality product for your grooming needs.