Having a beard trimmer is now nothing short of a necessity. If you want to experiment with new beard trends, craft a stylish beard or simply stay groomed, having the best beard trimmer is necessary. A good trimmer comes with several attachments as well- and you can use it for more than just trimming/styling your mustache and beard.
As you begin your search for the perfect tool for trimming your beard, you will probably come across a lot of options. There are many brands, variants, and models to choose from. The simplest way to find the best one for you is to go through beard trimmer reviews. Other users' experience and honest reviews will help you to narrow down your choices. To help you with that, we have compiled reviews of some of the best in the market. Let us go ahead and see which those are and what makes them the top choices.
Best Beard Trimmers
1. Andis Slimline Pro Li T-Blade Trimmer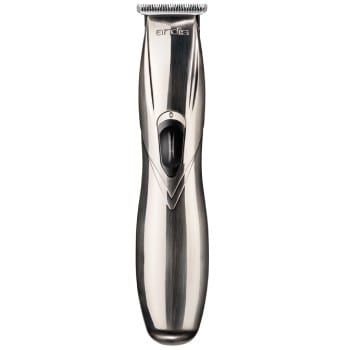 This model from Andis is a cordless T-Blade trimmer. It has a 120V Rotary Motor with a single-speed operation. It is powered by a Li-lon Battery that provides a run time of around 120 minutes/ 2 hours. The trimmer has a 2-hour 15-minute charging time. The operating voltage is 110V-240V. It has an auto-voltage adapter which means that you can use it around the world without a converter. Despite being a cordless model, the trimmer also supports corded operation.
The trimmer is lightweight being just 4.8 ounces. The T-Blade technology makes it a good choice for precision beard trimming and styling. It has a chrome-body and ergonomic design. Along with the trimmer, you get 4 attachment combs. The package also includes a charging adapter & stand as well as blade oil for lubricating the trimmer blades.
2. Braun All-ln-One Trimmer MGK3980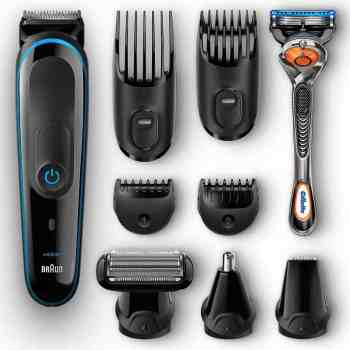 This is an all-one grooming kit from Braun. It has 8 attachments that you can use to trim your beard, head as well as the rest of your body. It has 4 precision combs for beard trimming and separate attachments for body hair trimming, nose hair removal, and other uses. This is a cordless trimmer along with a 60-minute operating time and an equal charging time. Its LED charge indicator lets you know when it is time to recharge. It also has a 5-minute quick charge feature that gives you enough time for a single trim.
This trimmer is 100% waterproof, which means that you can use it while in the shower as well. It works with an IOOV-240V range, making it compatible worldwide without any additional voltage converters. At 1.39 pounds this is a lightweight trimmer. You also get a soft-pouch for carrying the trimmer and its attachments.
3. Panasonic Cordless Men's Beard Trimmer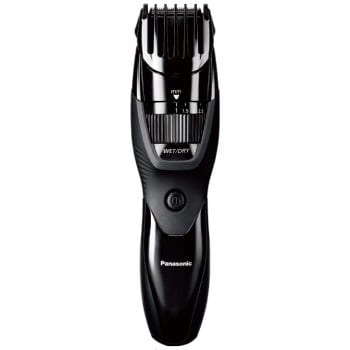 This cordless trimmer from Panasonic gives you 19 settings for cutting and sculpting your beard in every possible style. This can also be used in the shower and is 100% washable, so you can get rid of the hassles of keeping it clean.  You get 50 minutes of runtime on a full charge.  It is powered by Li-Ion batteries. The blades on this trimmer are attached at a 45-degree angle. This allows for precision trimming. You can use it to cut and style your beard, hair, and mustache.
With a weight of just 1 pound, this is light and convenient to use. The ergonomic design further adds to the usability. Since the different 19 settings for cutting hair/beard are on the unit itself, you do not require any additional attachments with it. This trimmer is only compatible with 220V-230V. Along with the unit, you also get a charging/storage stand.
4. xtava Pro Cordless Beard Trimmer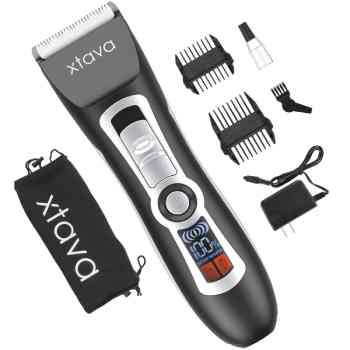 This trimmer from xTava is a complete hair grooming kit. It has 2 attachments and 4 length settings from 1.0mm to 1.9mm. Its adjustable switch allows for a quick-changing of the blade length. The titanium-ceramic blades allow for neat and efficient cutting of hair without any pulling. This cordless trimmer also has an LED display for the remaining battery percentage, charging indicator as well as lubrication reminders. With 3 hours of charging, you will get 4.5 hours of runtime. It's powered by a 2200 mAh lithium battery.
It has an ergonomic design and weighs just 0.5 pounds.  The xTava Pro runs on 110-240V, allowing for worldwide usage without any converters. The blade unit can be removed easily for lubrication as well as cleaning. Apart from the unit, you also get 2 attachments, a lubrication oil, a cleaning brush and a charging adapter for the trimmer.
5. Hatter Men's Beard Trimmer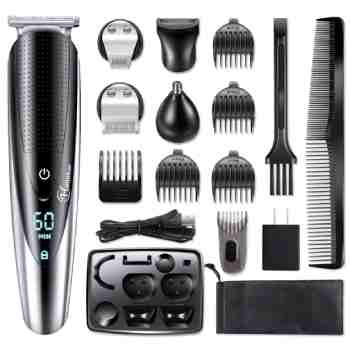 This trimer for Hatter comes with everything for all grooming needs. Apart from the beard trimmer and necessary attachments, it also has a nose & ear hair trimmer, adjustable and styling combs and a body trimmer among other attachments. The adjustable comb can be adjusted for 8 hair lengths between ½ to 16 mm, while the beard trimmer comb allows for lengths between 3 to 6 mm. It is equipped with non-corrosive steel blades that are self-sharpening as well.
It makes use of Li-Ion batteries and provides a cordless operation of 1 hour on a full charge. The battery capacity and charging status are also shown on its LCD. The trimmer and all the attachments can be easily washed underwater. Along with its several attachments, combs, and guard, you also get a charger plug, USB cord and a traveling bag in the kit.
6. Wahl 5623 Groomsman Cord/Cordless Beard Trimmer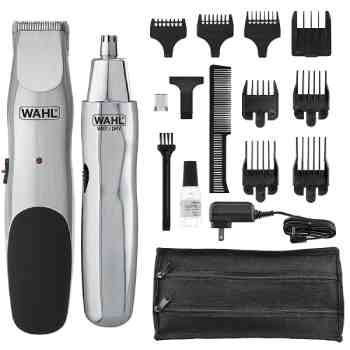 Wahl's cordless trimmer comes with carbon-coated steel blades and multiple beard guards. The blades are self-sharpening and allow for precision trimming. They give you a choice of 14 different lengths from 1/16" to ½". Apart from the multiple guards, you also get 3 stubble combs as well as 4 hair guide combs, making this the complete grooming set. It also comes with a nose and ear trimmer. This attachment can also be rinsed under water for easier cleaning. You also have a foil-shaving attachment that you can use to get a clean-shaven look.
The trimmer can be charged using 110V-220V, making it suitable for worldwide usage. You can use this as both a cordless and corded model. On a full charge, you get 80 minutes of cordless operation. It runs on a Ni-Mh battery. Apart from the attachments, you also get a charger, charger/storage base, beard comb, lubrication oil and a cleaning brush in the kit.
Beard Trimmer Buying Guide
Before you go on the search for a beard trimmer, there are a couple of things you need to answer. What type of battery life do you need, corded v/s cordless operation, accessories, etc.- the list goes on. Let's go ahead and talk about some of the most important considerations while buying a beard trimmer.
Top 5 Considerations When Buying A Beard Trimmer
Here are some of the questions that you must answer before you look for a beard trimmer.
How frequently do you travel and need to take a trimmer with you?

Answering this will help you decide on several things. If you travel frequently and do require a trimmer with you on your trips, then you may want to consider getting a cordless trimmer. With a cordless trimmer, you get at least an hour of running time on a full charge. This can even be 2 or 3 hours depending on the model. It adds to the convenience and is one less thing to bother about on your travel.

If you travel internationally, then you will need a model that is compatible with 110-220V. Having this rating means your trimer and its charger or power cord work with all voltage ratings worldwide. This allows you to charge or use the corded trimmer without having an additional voltage converter.

How much do you experiment with your beard/mustache?

Do you generally keep the same style of beard for a long time, or do you try something new with every trim/shave? If you fall into the former category, then any decent trimmer with good quality-blades will meet your requirements. However, if you are the latter- someone who experiments a lot, then you will need a precision trimmer with several styling guides and attachments.

The different styling combs and attachments with trimmers make it easy for you to cut your beard to different lengths, style it and thus experiment as much as you want. There is not a lot of price difference in models that have several styling heads/attachments.

Do you just need a beard trimmer or need a full body groomer?

If you need something more than just a beard trimmer- something that can take care of the occasional body grooming needs too, then that's one more thing to look for. You get trimmers that are designed just for beard and mustache trimming, those that have an extra attachment for ear & nose hair trimming and full body groomers that take care of your grooming needs from head to toe. Depending on what you need, your ideal trimmer type can vary.

If you are looking for a full-body set, then check out our selection of best body groomers and what they have to offer.

Are you going to use your trimmer to cut your hair?

While body grooming is one thing, using your trimmer to cut your hair is something that calls for a separate discussion. The hair on the head is generally thicker and needs sharper and wider blades. There is nothing against using your beard trimmer for hair on the head- but you are likely to make a mess out of it and not get a fine haircut. If you need a trimmer that can do this function too, you are better off looking for beard trimmer and hair clippers combo.

Do you like to use your trimmer in the shower?

If you are someone who uses his trimmer in a shower quite frequently, you should get a waterproof one. Note that there is a difference between waterproof attachments and a waterproof trimmer. Waterproof attachments simply mean that you can wash the styling combs and trimmer heads underwater. A 100% waterproof trimmer is something that you can use even when under the shower- one that will not malfunction in water.

A 100% waterproof trimmer is also easier to clean- simply rinse it in water and you are done. It allows for easier maintenance. You may want to get one if you like something hassle-free to maintain.
7 Important Beard Trimmer Features To Look For
Now that you have an idea of what type of trimmer or grooming kit you need, the next thing will be to compare the available choices. Here is a list of some of the features that you can look at to compare the different available trimmers.
Battery

In a cordless trimmer, battery life is an important consideration. Most trimmers offer a runtime of approximately 60 minutes on a full charge. However, some models go as high as 3 hours on a full charge as well.  Depending on how much cordless operation you want, you can make the choice here.

The type of battery to go for is also important. Lithium-Ion batteries are among the best choices. They last longer and are also good at retaining a charge. Other common battery types include Lithium and Ni-Mh batteries.

Charging Time

This again matters if you are looking for a cordless trimmer. The average charging time is around 1 to 1.5 hours for an equal amount of cordless operation. Some of the trimmers also have a quick-charge feature. This gives you around 15 minutes of cordless operation in a 5-minute charge or less.

Type of Blade

The type of blade will decide what type of shave/trimming you will get. You will need high-quality blades that last long to make most out of your trimer. Let's go over some of the common blade types and what they offer.

Ceramic Blades: The main benefit of these blades is that they do not heat up easily. Ceramic blades also wear down less and last longer.
Titanium Blades: Titanium blades are harder than their steel-alloy counterparts. They also stay sharper for longer. Titanium blades are generally marked as 'self-sharpening' as well. Most trimmers using these blades do not require any oiling.
Steel Alloys: These are the most common type of blades used in trimmers. This could be stainless steel or carbon-hardened steel among other types. Apart from plain-steel, most blades under this category are corrosion-free and last longer than plain steel blades. These are found in the most affordable models.

To give your beard the essential care that it needs, check out these beard oil reviews to learn what the right beard oil can do for you.

Accessories/Attachments

The more accessories and attachments you get with your trimmer, the more versatile applications it will have. From different length trimmer heads to ear & nose trimmer, body groomer, styling combs, beard styling combs, etc. are all optional, but they help you to do more with your trimmer.

Warranty

A quality trimmer can last you for several years without the need for any repair/replacement. To ensure that you get the most out of your purchase, get a trimmer that is backed by a decent manufacturer's warranty. Do check what this warranty covers. Most brand warranties range between 1 and 3 years.

Design and Weight

A lightweight trimmer and ergonomic design should be a priority. These features help you to use the trimmer for longer durations with ease. This is important if you want to perfectly trim and style your beard and groom yourself.

Voltage Rating

A trimmer with a 110-220V rating means that it will work worldwide without any voltage converters required. Those with a specific rating such as 110V may only work in the US and not in countries that use a different voltage rating.

Do you need something that can give you the perfect shave without the hassle of replacing razors and spending a lot of time? If yes, then check out this electric shaver buying guide to find the perfect one for you.
Beard Trimmer Comparisons
There are many aspects to consider and variables you need to decide amongst. To shed more light on some tough decisions we've conducted 3 comparisons for you: Corded vs Cordless & Ceramic vs Steel Blade Trimmers & Beard Trimmer vs Hair Clipper.
Corded v/s Cordless Beard Trimmer
Corded Trimmer

The trimmer's cord is the major difference between the two. The cord is a corded trimmer is attached to the unit, and it must always be plugged in when you want to use the trimmer. There is no battery in a corded trimmer. This also means one less part to bother about replacing as the years pass, though modern trimmers use Li-lon batteries that last for several years. If you travel abroad frequently, then you may want to look into getting a corded trimmer that is compatible with 110V-220V or worldwide voltage.

Corded trimmers also offer more power as compared to their cordless counterparts. However, you will not be able to differentiate that in everyday usage. We have listed down the pros and cons of a corded trimmer to make your choice even simpler.

Pros:

No downtime- always ready to use
Can run continuously without the need for any charging
Comparatively longer life than corded trimmers

Cons:

The length of the cord can be a limiting factor
You cannot use the trimmer in a place where there is no power outlet

Cordless Trimmer

A cordless trimmer has a cord too- but it does not need to be attached to the trimmer all the time. You only need it to charge the unit, and once it has enough charge, you can use it cordless. These trimmers are more convenient to use. While the life of the battery can be an issue, newer models are now using Li-lon batteries that last longer and hold charger for more time. Cordless trimmers are ideal for those who travel frequently since they can decrease the hassle of charging frequently.

A lot of trimmers also have the quick-charge feature. This gives you approximately 5 minutes of runtime in a charge of 1 minute or so, enough for quick trimming. The battery life of most cordless trimmers is at least 1 hour, with some giving you 3 hours of runtime on a single charge as well. Some of the cordless trimmers can also be used as a corded model with the charging cable attached. With this, you do not have to wait for charging to complete. The major pros and cons of a cordless trimmer are up ahead.

Pros:

No hassle or limitation of cords while using
Convenient to use
No need for a power outlet every time it is to be used

Cons:

Some downtime during charging may be involved
Comparatively less power as compared to corded trimmers
Ceramic v/s Steel Beard Trimmer Blades
What type of blade the trimmer has decided how smoothly it is going to cut your beard and hair, the longevity of the trimmer and how much maintenance would it require. Two of the most common blade types are ceramic and steel blades. Let's talk about these in detail and see what the better choice for you would be.
Ceramic Blades

Ceramic blades are corrosion free as compared to plain steel blades. They also do not heat up as easily and are 75% cooler as compared to steel blades. This is because the ceramic material conducts less heat as compared to their steel counterparts. These blades also cut through beard and hair more smoothly. They require less maintenance and lubrication as well.

However, they are brittle as compared to steel blades. This means ceramic blades have a higher chance of breaking. Replacement ceramic blades are also more expensive as compared to steel blades.

Let's sum up our discussion on the pros and cons that come with ceramic blades.

Pros:

Heat up less
No maintenance or lubrication required
Do not get corroded or rusted

Cons:

More expensive than steel blades
Brittle so may break easily

Steel Blades

Steel blades were the standard choice for beard trimmers for quite a while. Even now after various types of blades are there in the market, steel blades continue to be the standard choice for several manufacturers. Plain steel blades are not used any more- these rusts easily and need frequent replacement. The most common material used for making blades is Stainless steel- it does not rust and lasts longer. If you are looking for a trimmer that you can use in the shower, you will need one that has corrosion-free blades. Stainless steel or the other steel-alloys are the better choices in this case.

Steel alloys are also becoming increasingly common. Carbon-steel is one of the most preferred choices. These blades are also sharper and offer a smoother cut. Another premium option is titanium-coated carbon steel. Blades made using this steel alloy are durable and stiff, and last longer and are corrosion-free.

The list of pros and cons of steel blades is given below.

Pros:

Harder and long-lasting
Sharper than most blade types
Corrosion-free

Cons:

Heat up more as compared to ceramic blades
Titanium and carbon-coated blades are expensive
Beard Trimmer v/s Hair Clipper
Most people think that a beard trimmer and hair clipper are the same things. While the two are closely related- they are not the same. There is nothing that says you cannot use your beard trimmer to cut your hair or hair clippers to trim your beard- but chances are you won't get the best results.
The basic difference between a beard trimmer and a hair clipper is the guide or blade length and size. Hair clippers are designed for cutting longer hair. Their attachments are made to allow you for adjusting the length of the hair you will cut. Most hair clippers will also not cut very close to the skin, unlike a trimmer. You can use a hair clipper to trim off some of the overgrowths from your beard, but that's about it. For a finer cut, you will need a beard trimmer.
Beard trimmers, on the other hand, have thinner blades. These blades are designed to work with shorter hair and for finer details. Most quality trimmers are precision trimmers, which means you can use them for very fine trimming or cutting off your beard. Trimmers can cut hair very close to the skin. Most trimmers do not have wide blades.
5 Benefits of Beard Trimmer over Razors
As you look for a beard trimmer, one question that you may have is what do you gain over a razor? Let's talk about some of the benefits that you get when you switch over from a razor to a beard trimmer.
No need for water or shaving foam
With a beard trimmer, you do not require any water or shaving foam. Simply pick up the trimmer and style and trim the way you want your beard to be. There are waterproof trimmers as well that you can use to trim under the shower if you want to wet your beard before trimming. With a beard trimmer, you get both flexibility and convenience.
Last longer and require no replacements
In razors, you will have to keep replacing the blades after a few uses to keep up the smoothness and sharpness of your razor. However, these things are not required with a quality beard trimmer.Beard trimmers come with self-sharpening blades that last for a few years without requiring any replacement. With a quality beard trimmer, you won't find any difference between the smoothness and cut of your 1st and 100th use.
Trimmers the better choice for people with sensitive skin/allergies
If you are someone who has sensitive skin or suffers from some allergy when you use razors, switching over to a beard trimmer may be the best choice. All quality beard trimmers come with hypoallergenic blades. While beard trimmers do cut close to the skin, they do not give you a complete shave. This allows for those with sensitive skin to trim their beard without any cuts or irritation.
No need for an aftershave
Aftershaves can be harsh, and you must use one after using a razor. However, since a trimmer does not cut as close as a razor, you do not need to use an aftershave either. Simply rinse your face with water after using the trimmer and you are done.
No cuts or hair pulling
Even with the smoothest of razors, you will end up getting a few cuts on your skin. However, with beard trimmers, you won't have any cuts on your skin. Further, quality trimmers allow for smooth trimming without any hair-pulling.
How To Maintain Beard Trimmer In 4 Easy Steps
Once you have bought your beard trimmer, the next thing is to maintain it so that you get a smooth and quality trim every time you use it. Beard trimmers can last for years if taken care of. With that objective, let's look at some of the things that you can do to prolong the life of your trimmer.
Oiling The Blades

One of the most important things to maintain the life of your trimmer is ensuring that its blades are always maintained. The majority of the trimmers have a blade oil included. All you must do is put in 1-2 drops of this lubricating oil after each use (or as directed in its manual), This keeps the blades running smoothly, avoids overheating and gives you a smooth cut.

Cleaning The Trimmer

Your beard trimmer will get a bit of hair lodged in it, and this will build up after each use. Not only will this decrease the efficiency of the blade, but it can also decrease the power by getting in the moving parts. After each use, rinse the attachments of your beard trimmer underwater. Ensure that no hair is stuck in it. Trimmer attachments are waterproof and easy to clean.

If your trimmer is not waterproof, use a clean cloth or the provided brush to remove any excess hair between the blades. For waterproof trimmers, you can use water to remove any hair between the blades.

Protecting Battery-Life

If you have a cordless trimmer, then prolonging its battery life is key to ensuring you get the most out of it. At least once a month, completely discharge the battery (bring it down to 0%) and charge it to 100%. This helps to calibrate the battery and help it to retain the maximum charge.

If your cordless trimmer uses a battery type other than Li-lon, such as Lithium or Ni-Mh batteries, then try to charge it only when the capacity left is 0%. Frequently charging the battery when it already has charge left can decrease the lifespan of these batteries.

Storing The Trimmer

It is important to properly store the trimmer when not in use. Ensure the blades are covered and that it is securely placed in the provided pouch/kit. This will keep the blades safe and free from any damage. For cordless trimmers avoid going for long periods without using- at least discharge and recharge the battery once in 2 months.
Beard Grooming Tips and Steps
6 Tips for Beard Grooming
Trimming your beard is not that tough- but it is not that simple either. All you must do is follow a couple of steps and have the right beard trimmer to do it perfectly. So, what are those? Let's first see the steps to getting a perfectly trimmed beard.
Cleaning and softening your beard

If your beard is dirty and/or dry, then trimming it will be a little hard and you probably won't get the best results. First, wash your beard with some shampoo and condition it. If your beard is harder than usual, you can even use specialized shampoos for beards. This cleans and softens your beard and makes the rest of the process easier.

Brush your beard

Run a brush through your beard after it dries. It makes the hair stand up. This is the most crucial step- it makes trimming easier and shows you any irregularity in its length.

Start trimming

Now you can use your trimmer to get the desired length. A safe option here is to use a guard with a length bigger than you want. This will avoid getting it too short by accident. You can either go for the same length all around or go with some style too. The most common one is to leave the hair around chin a little longer, and those on the sides a little shorter.

Trimming the mustache

Generally, the length of the mustache must be the same as the hair on your temples and cheeks. You can use your trimmer here as well. For a finer cut and to cut off any extra hair, you can use mustache or beard scissors as well. Start from the lower end and move higher from your upper lip, adjusting as per your preference.

Defining the neckline

Trimming the neckline can be tricky. Ignoring it or trimming it incorrectly can mess up your entire look. A good rule here is to trim it entirely under Adam's apple. Where you draw the line from there is your own choice. This part is more of an art and your personal preference- but it is something that you must not ignore.

Clean and finish with some oil

Once you are done, simply wash your face with water and a facewash to get off any excess hair that may still be stuck to your face. You can also use beard oil to keep your beard looking good.
Read more: prevention methods for ingrown beard hairs
6 Steps of Beard Grooming
With this guide, you'll be well on your way to getting a perfectly trimmed beard. A few additional tips to help you get the look you want are ahead.
Keep your beard clean and oiled. Regular maintenance of your beard will keep it soft and easy to trim as well.
Check your trimmer before using it. Ensure that its blades are correctly aligned, and the motor is running as expected.
If your trimmer is waterproof, gently moisten your beard before trimming. This allows for easier cutting.
For cordless trimmer, check the battery level before you start. Many trimmers have an LED or LCD that indicates that. You do not want to run out of charge in the middle of trimming.
Keep all the attachments clean and rinse them after every use.
Trim for a length a little longer than what you want, and then adjust. If you accidentally trim it too short- then there's no way to repair, so better to be safe here.
Read more: How to trim a beard – properly
How To Use Beard Trimmer Attachments
With every beard trimmer, you get quite a few attachments. These range from length guards to specialized nose & ear trimmers and body groomers as well. A few trimmers have the length settings directly attached to the unit, so you may not have a separate set for that. Let's talk about some of the most common beard trimmer attachments and how you can use them. Do note that not all these attachments may have come with your trimmer- and some trimmers may have more than what is listed below.
Variable Length Guards

Variable-length guards are what you use to adjust the length of the hair that you want to trim. The most common naming convention is from Guard 1 to Guard 5. Guard 1 will give you short-hair, while Guard 4 and 5 are to leave longer lengths. The length of hair increases from 1 to 5, These are the most common of attachments with beard trimmers and you will get them with almost all kinds. What type of guard you use depends on what length you want. Some trimmers may give more than just 5 length guards for a broader or finer range.

Nose Trimmers

This is another common attachment available with most beard trimmers. If you want to trim your nostril hairs because they are too long, then this attachment is what you need. They are a safer and better alternative as compared to scissors. Simply fit the nose trimming attachment on your trimmer and use it to trim the hair off the edge of your nose. Do not insert it into your nose- only use it on the outside edges. This is all you need to look neater and get a clean nasal path.

Edgers

Edgers are what you can use to trim or clip off a mustache and goatees. These are useful in shaping a beard as well as your sideburns. You can use them for outlining the beard and getting a sharper look overall. Using is not tough- you simply attach them on and trim along your beard's ends. Use a comb to guide you with this. You'll have to be careful while using these to get the perfect beard shape.
Faqs And Their Answers
Can I use my cordless beard trimmer when it is charging?
While this varies across models, most cordless trimmers can be used while charging (or as 'corded'). Check the manual of your model and see if it lists that. If your cordless trimmer has a separate base for charging, then you obviously cannot use it while charging.
Should I apply something on my face (water, shaving cream, etc.) before using a trimmer?
The best part about a trimmer is that you do not need to apply anything before using it. However, you can moisten your beard with some water to allow for smoother cutting. It also makes trimming less messy as the hair does not fall off randomly and stick to the trimmer head. You can then simply rinse it off.
Do trimmer blades need replacement?
Trimmer blades are high quality and good to go for 2-3 years or even more without replacement. If you think that you are not getting as good a cut anymore, then first check if the trimmer blades are clean and are aligned properly. Lubricate them regularly and then try. If you still do not get a good cut, then you can check with the brand store to see if the blades need a replacement or if it is any other issue.
Do corded trimmers last longer than cordless trimmers?
This is a common query because people worry that the batteries in cordless trimmers will stop holding charge with time. While this was an issue with older battery technologies, most trimmers now make use of Lithium or Li-lon batteries. These batteries hold a charge up Ito their maximum capacity and last for several years, so this should not be an issue for you.
Wrap Up
Finding the best beard trimmer may seem like quite a task at first, but if you know what things to look at, you will be able to get the right one quite easily. A good beard trimmer is an essential grooming accessory for any man. No matter what type of beard (or clean-shaven!) look you like, having a beard trimmer is what will help you to maintain it. This guide should serve as the starting point for your self-grooming journey.
With these beard trimmer reviews, you will also know why these beard trimmers serve as the ideal way to free yourself from regular trips to the salon. Trimming your beard is something that you can do on your own quite easily. All you need is a quality trimmer and you're all set to groom yourself, try new styles and experiment with your beard.