Did you know that it took more than a decade for Leo J. Wahl to design and patent his first electric hair clipper?
As personal grooming has become quintessential in the modern lifestyle, electric hair clippers have come a long way in their innovations as well as in terms of usage. Today, the endless list of the best professional hair clippers for men has offered men a plethora of options to choose from. Not only this but also, the hair clipper reviews offer a reasonable comparison for the beginners as well as for the pros.
Oster Ultimate Package

PRICE $$$$$

WEIGHT : 9 lbs

DIMENSIONS : 12 x 9 x 6 in

Battery Runtime : up to 1 hour

Charge Time : 2 hour

Volt : 110 V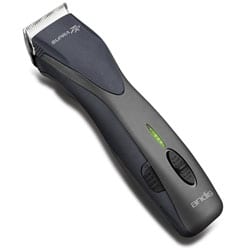 Andis Supra ZR Cordless Ion Clipper

PRICE $$$$

WEIGHT : 1 pounds

DIMENSIONS : 1 x 1 x 1 inches

Battery Runtime : up to 2 hour

Charge Time : 2 hours

Volt : 100-240V
Panasonic ER-1611-K Professional Hair Clipper

PRICE $$$

WEIGHT : 1.2 pounds

DIMENSIONS : 6 x 4 x 8 inches

Battery Runtime : up to 50 minutes

Charge Time : 1 hour

Volt : 100-240V
Andis Men's 5-Speed Hair Clipper Kit

PRICE $$$

WEIGHT : 2 pounds

DIMENSIONS : 5 x 1 x 5 inches

Battery Runtime : up to 1 hour

Charge Time : 1 hour

Volt : 120 V
Oster Classic 76 Universal Motor Clipper

PRICE $$$

WEIGHT : 2 pounds

DIMENSIONS : 2 x 2 x 7.5 inches

Battery Runtime : up to 1 hour

Charge Time : 1 hour

Volt : 100-240V
Best Professional Hair Clipper Reviews – (Updated List)
1. OSTER ULTIMATE PACKAGE HAIR CLIPPER
All the beauty and salon houses have this equipment to increase the performance while trimming hair neatly and efficiently.
Features:
Equipped with T-finisher
Includes Classic 76 clipper
Comes along with 10 piece comb guide set
Spray disinfectant
Choosing Oster Ultimate Package for the salon is the best decision you can ever make. This works efficiently, giving high performance and reliability.
A stylist can use it confidently as there are eleven blade sizes, which can be changed quickly when required. The hair gets cut in a neat and tidy manner, and this clipper works well on all types of hair conditions.
Thick, thin, coarse, wet, dry and damp hair can be easily cut with the help of this clipper, getting a fine and smooth trimming in a fraction of seconds. The hair around ears, necklines, mustaches, and beards can be easily trimmed without facing any difficulty. The blade oil, grease and cleaning brush come along with set at an affordable price.
The adjustments of the blade can be done manually without taking any help from a mechanic.  However, this is not cordless equipment and also the blades to be used are quite expensive to buy.
Keep reading: Oster Ultimate Complete Package
2. ANDIS SUPRA ZR CORDLESS ION HAIR CLIPPER
A stylist is always in need of a clipper to do hair trimmings of almost 70-80 people in a day and with this one, you do not need to go anywhere. It is that efficient!
Features:
Cordless design with heavy-duty Supra ZR detachable blade clipper
Detachable blades
Multiple settings and blade options provided
Lithium-ion power for 2 hours runtime
Powerful rotary motor
Frankly Speaking:
This clipper works efficiently on all hair types from wet to dry as it is equipped with a powerful rotary motor. It can be adjusted up to 5 speeds ranging from 1800 to 3800 strokes per minute. This professional clipper can be used with any kinds of blades from Andis UltraEdge to CeramicEdge blades, Oster Classic 76 blades and Oster Titan blades, revealing its versatility.
Being the light in weight and easy to use, this clipper is comfortable to hold even for a long time while working. The only drawback faced by this equipment is that it is not an excellent one to use for thick hair though it works effectively on detail work and light bodywork.
The blades get bogged down when the external pressure rises from a bunch of thick hair. Thus, cleaning the guard combs takes more time if hair gets bunched up in it.
Keep reading: Andis Supra ZR Cordless Ion Clipper
3. PANASONIC ER-1611-K PROFESSIONAL HAIR CLIPPER
The hair professional can now transform anyone's outlook with this clipper that is rechargeable to run for approximately 50 minutes and has an enhanced motion cutting capability.
Features:
Both cord and cordless operation
Requires 60 minutes to charge
Provides 50 minutes of clipping
Twin voltage clipper
Frankly Speaking:
The hi-technicians of Panasonic have come up with this latest model of the clipper in which the advanced battery and recharge operation makes it a worth investing equipment. The reliable battery operation allows you to clip any client's hair without stopping in between to recharge it. It is able to do hairline and around the ears too, without facing any difficulty.
The precise cutting option with X-taper blade shape cleans a large surface area, catching the hair in a go and clipping it instantly. The adjustable control dial at the front can be rotated as per the required settings of the comb. In addition, there is an availability of LED display lights for both charging meter and battery status, letting you know when to plug it in for charging. The expert technology used in this clipper hands over lightweight gadget with the sleek body design.
Keep reading: Panasonic ER-1611-K Professional Hair Clipper
4. ANDIS MEN'S 5-SPEED HAIR CLIPPER KIT
A perfect clipper kit is here for all types of hair textures. The professional stylists can show their creativity by styling everyone using this 5-Speed clipper.
Features:
Rotary motor for heavy-duty cutting
Reduces blade heat and friction
Made in the USA
Detachable blades
Easy to clean and use
Surprising details:
All the salon and creative stylists need to own this clipper as it has variable speed mode for working on all types of hair textures. The speed settings are in five modes and once you have switched off the clipper, you do not need to remember the last mode you had worked on. This gives better control while working on high densities of hair.
It works efficiently with Andis UltraEdge, CeramicEdge and Oster 76 blades that can be detached, switched and cleaned properly. Apart from this, the blade can be inserted into the clipper by giving a slight push with a thumb. This is how a clipper starts working properly. It can be transformed into the cordless mode, enabling higher performance of the stylist.
Being small and compact in size, it is portable and the best travel companion to carry along wherever you go. The blades need to be changed occasionally when different lengths of hair are to be cut.
Keep reading: Andis Men's 5-Speed Hair Clipper Kit
5. OSTER CLASSIC 76 UNIVERSAL MOTOR HAIR CLIPPER
A universal motor clipper is an ideal machine for the professionals who want to work efficiently, making proper use of 000 and 1 sized blades.
Features:
Powerful, efficient and heavy duty universal motor
Resistant housing
Detachable Cryogen-x blades
Corded with 9 ft long power cord
The professional barbers generally look for the most efficient clippers to increase their speed of clipping with perfection and accuracy. This clipper, being ultra durable, is good to use for the whole day. The experienced cutters adopt this clipper for an effortless and endless job to do with ultimate perfection.
This single speed clipper cuts light and heavy densities of hair (both thick and thin), without blocking the hair inside the tool. Besides these features, its resistant housing helps the clipper maintains it longevity, keeping it safe. This set includes blade guard, lubricating oil to grease the machine, clipper grease and cleaning brush, adding more time to its life.
However, one drawback of this machine is that the large width blades do not allow its use near the ears and mustaches as it works effectively and quickly on larger surface areas. This also creates noise more than your home tools and changing blades may take some time to learn.
Keep reading: Oster Classic 76 Universal Motor Clipper
Remington HC4250 Shortcut Pro Self-Haircut Kit

PRICE $$

WEIGHT : 1.2 pounds

DIMENSIONS : 9.8 x 7 x 2.5 inches

Battery Runtime: 40 Minutes

Charge Time: 4 Hours

Volt : 110 V
OSTER Fast Feed Adjustable Pivot Motor Clipper

PRICE $$

WEIGHT : 1 pounds

DIMENSIONS : 6 x 3 x 10.5 inches

Battery Runtime: 1 hour

Charge Time: up to 2 Hours

Volt : 110V
Andis T-Outliner Trimmer with T-Blade

PRICE $$

WEIGHT : 11.2 ounces

DIMENSIONS : 1.8 x 1.5 x 5.2 inches

Battery Runtime: up to 1 hour

Charge Time: 2 Hours

Volt : 120V
Wahl Professional 5-Star Balding Clipper

PRICE $

WEIGHT : 9.6 ounces

DIMENSIONS : 1.8 x 1.8 x 5 inches

Battery Runtime: up to 1 hour

Charge Time: 2 Hours

Volt : 120V
Philips Norelco Beard & Head trimmer Series 5100

PRICE $$

WEIGHT : 1.1 pounds

DIMENSIONS : 8.3 x 9.2 x 2.6 inches

Battery Runtime: 70 minutes

Charge Time: 1 Hour

Volt : Automatic voltage 100-240 V
6. REMINGTON HC 4250 SHORTCUT PRO SELF-HAIRCUT KIT
An extra-wide curved blade feature of this clipper makes it an ideal buy to cut through the thickest hair on your own.
Features:
Easy self-haircut tool
Availability of 9 length combs
Rechargeable battery with 40 minutes of cordless use
Comes along with hand-held clipper, cleaning brush, pouch, and oil
This single accessory is good to use at home without going to a barber or hair stylist for regular haircuts and grooming sessions. Its ergonomic design with stainless steel blades in curved outlook is perfect to work on your head's shape, covering the maximum area and cutting through thick and thin hair.
The comfortable grip lets you hold it for as long as 40 minutes after charging it for 4 hours. It can be easily cleaned and washed for maintaining it for a long time.
The professionals can make the best use of it as it can be used with both corded and cordless features with 9 different length combs to obtain the desired look. The hair cutting experience becomes more exciting with a number of accessories available but it takes too long to get charged as compared to other models.
Keep reading: Remington HC4250 Shortcut Pro Self-Haircut Kit
7. OSTER FAST FEED ADJUSTABLE PIVOT MOTOR HAIR CLIPPER
An affordable clipper is a must-have of a reliable brand, quality, and specifications.
Features:
Whisper quiet powerful motor
Works effectively on any hair type and length
Ergonomic design for easy handle
Availability of 4 guide combs
Blade guard, lubricating oil, and cleaning brush
This unique and widely accepted clipper has enough reasons to buy. Starting from its powerful motor, it helps to cut through both wet and dry hair without making any noise. It cleans the densest area of hair also with a single pass. The Cryogen-x blade lever is convenient enough to change the settings and in choosing the required length for working efficiently. The curved surface and ergonomic design make it a perfect clipper to hold confidently.
It comes with four guide combs that can be set as per the requirement and power cord lets you use it endlessly and effectively. Blade guard, cleaning brush, and lubricating oil are included in this pack to keep it strong and effective.
Apart from such benefits, its flaw is its weak motor and dull blades. It gets heated quickly and needs to be cooled down before you use it again.
Keep reading: OSTER Fast Feed Adjustable Pivot Motor Clipper
8. ANDIS T-OUTLINER TRIMMER WITH T-BLADE
A
high-quality trimmer
, which comes with a super fine tooth and steel blades for, desired perfection in styling!
Features:
Perfect for dry shaving
Equipped with close-cutting T-blade for precision at the edges
Contoured housing with high-speed motor
A powerful magnetic motor which creates no noise
High-quality carbon-steel blades for longer durability
The Andis trimmer is one of the highly demanded trimmers among the barbers, stylists, and consumers all across the globe for its high precision blades and premium quality.
The fine-cutting teeth and T-blades allow precision in cutting and offers sharpness at the edges such as the back of the neck, beard, and mustaches and around the ears. The trimmer comes with a heavy-duty eight-feet cord, which allows ease of use.
The powerful machinery offers desired results in less time and makes less noise. The carbon-steel blades are hardened enough to ensure long-life cutting. The only drawback of this trimmer is it works suitably well only on the short hair and cannot trim off the longer hair. As the machine is designed for shorter hair, it even ensures that it never harms the skin even if it is worked too closely on shorter hair.
Keep reading: Andis T-Outliner Trimmer with T-Blade
9. WAHL PROFESSIONAL 5-STAR BALDING HAIR CLIPPER
The renowned clipper from the famous house of grooming industry featuring all necessary accessories.
Features:
It is intended for professional precision
A corded clipper for a professional barber
Powerful electromagnetic motor
5-star balding clipper with necessary accessories
The Wahl Professional clipper is designed for professional use by trained barbers as the clipper offers close precision for a sharp performance. The clipper comes with a cord and helps the barbers to work with it for a longer period of time without fail. The electromagnetic motor cuts hair with twice the speed of a pivot motor, which allows quick precisions, effortless styling, and bald fades.
The package offers all the essential accessories, which are needed for a sharper haircut as well as cleaning of the hair clipper, such as clipper, comb, oil, cleaning brush, instruction manual, and a red blade guard.
The 5-Star Balding Clipper is 6.25" long and 1 lb in weight. The length of the cord is 8-foot which is chemical resistant and works on #2105 blade, V5000+ electromagnetic motor, and consumes 120 volts/60 hertz. The only flaw of the clipper is its high-speed vibration, which eventually leads to a hot motor on consistent usage.
Keep reading: Wahl Professional 5-Star Balding Clipper
10. PHILIPS NORELCO BEARD & HEAD TRIMMER SERIES 5100
A dynamic trimmer comes with dual combs to clip of long and short hair.
Features:
Clipping combs for both long and short hair
Comes with a body trimming comb
Inbuilt 17 precision length settings
Completely washable for effective cleaning
Could be used with or without a cord
The stylish trimmer is designed for an effortless even trim for a stubble look. The newly integrated hair lift comb is designed to enhance the efficiency of the steel blades for an efficient one-pass trim.
The long and short hair clippers are offered to finish the edges of hairstyle. It also comes with a body comb, which allows the person to trim the hair to any desired length. The clipper is offered at a great price making it a perfect home clipper.
The lithium-ion battery helps the clipper to work for longer hours continuously and even charges early than the usual batteries. Being a cordless clipper, it is a perfectly portable item, which one can carry wherever he goes. The clipper comes with self-sharpening blades and a 180º rotating head, which offers ease of use even at the back of the head.
Keep reading: Philips Norelco Beard & Head Trimmer Series 5100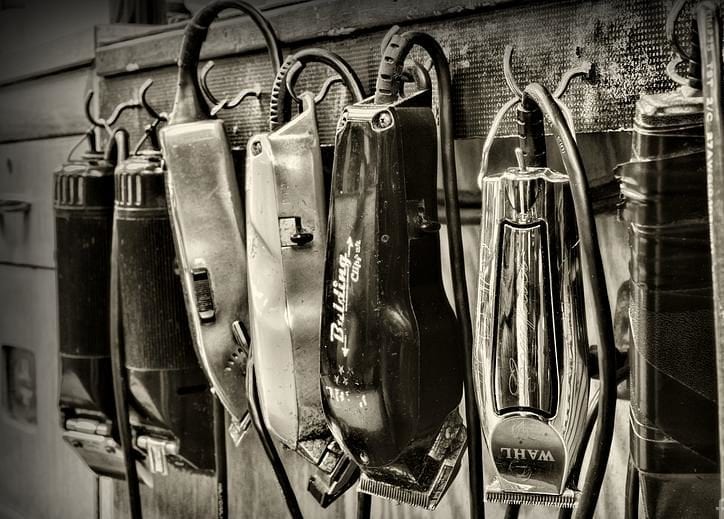 Buying Guide: How to Buy The Best Barber Hair Clipper
As personal grooming makes its own way in modern lifestyle, the need to stay comely and sophisticated on a daily basis is a must. A neat and clean hairstyle is one of the essential requirements for a man; which is why having a hair clipper in one's dressing is inevitable.
Hair clippers are amazing tools used for cutting hair and personal grooming. But buying one can be a difficult choice as the wide range of products offered for the people is bewildering. The real and virtual markets offer low-rated as well as the high-rated models, both advertised as best barber clippers for fades.
The Top 10 Things to Consider When Buying a Hair Clipper For Men
So, before making an investment especially for a hair clipper that really earns that money, it's recommended to have a look at some of the key factors, which must be present before buying a suitable one.
Motor Speed and Type:
The effective the motor is, the better is the functionality of the machine. A powerful hair clipper is often pricey but is a worth investing deal for a longer run. A powerful motor helps in cutting down thick and wet hair effortlessly. The speed of the motor should be around 10,000 rotations per minute to provide effective results.
There are three kinds of motors found in hair clippers, the magnetic motor which comes with an effective speed but is not considered as powerful; the rotary motor is considered as the best of all for its functionality but comes in bulkier machines; while the pivot motor is powerful but the blades move the slowest.
Corded/Cordless:
The Corded and the cordless hair clippers come with their own benefits. The cordless hair clippers offer a convenience of use especially when someone tries to cut his own hair. These could be used in any direction with great ease and are portable enough to be carried along. The risk of tangling up is eliminated in a cordless machine.
Whereas, the corded option is a bit heavier on the price and needs a power switch to work. But these are highly used in the professional salons for being powerful and never make them lose their calm when the clippers die part way through a haircut. While buying a corded clipper, the length of the cord must be long enough to offer easy accessibility in all directions.
Accessories:
A complete hair clipper is the one which comes with all the necessary attachments which make it a highly usable item for personal use. The accessories that must be included in any hair clipper should have attachment combs, which allow one to choose the hair length he desires. The hair clippers come with 8 attachments, which allow cutting hair as short as 1/16 of an inch to 1 inch.
Apart from this, one must look for the right and the left taper accessories to cut hair easily behind both ears. Also, the necessary tools and supplies for cleaning and maintenance of the clipper blades is a must.
Cleaning Methodology:
The hair clippers cannot be cleaned properly under running water, neither this removes the hair off nor it maintains the blades for a longer run. Most of the clippers need to be cleaned with cleaning oil and a small brush to wipe off all the hair. The oil lubricates the blades for longer durability and the brush cleanses the hair from deep inside. A hair clipper, which recommends such cleaning, must have these accessories along to avoid an additional purchase.
Designing of the body:
The hair clipper must be designed with an ergonomic body which is easy to hold while cutting down the hair from the areas which are hard to see. A well-designed body is easy to hold over the head for an extended period of time especially when it is being used on one's own head. Some extra features like speed settings, light indicators, and a button to change length elevate the designing of a hair clipper.
Blade Material and its Sharpness:
The blade of the hair clipper must be made of superior quality to ensure durability. The Stainless steel blades are sharp, rust resistant, easy to clean and affordable to buy. The blades, which are coated with carbon or titanium, add to the sharpness and cost. These blades offer a better and speedy performance and work well for extremely thick hair. The ceramic-coated blades work all day at their maximum power without overheating and protect the clipper from getting damaged. These are a bit expensive and fragile in comparison to others.
The blades need to be sharpened regularly, so it's a better idea to buy clippers with self-sharpening blades. Also, the detachable blades are more flexible as the different attachments allow cutting in desired lengths.
Help & Support:
A beginner must make sure that the hair clipper comes with a reasonable guarantee time. Professional clipper being expensive could sometimes lead to unsatisfactory for several reasons, so it is always safe to return them and choose a new model. A reasonable warranty time can also help so that the item could be repaired if something goes wrong.
Battery functionality:
The cordless hair clippers work on the rechargeable batteries. While purchasing a clipper, one must look for the charging time of the batteries that how quickly and efficiently these charge up. It should also be noted, for how long a fully charged hair clipper run so as to avoid dying off in the middle of a haircut.
Portability:-
A portable hair clipper is quite easy to use for its small size and lightweight properties, especially when someone is traveling and does not want to trust an unknown hair professional in a new city. The small size should not be compromised on performance and quality. Also, it should match your hand size to allow an easy use over and around the head. The heavier hair clippers are quite chunky and tiring, which prevents usage for a longer stretch.
Price:-
The price of the hair clipper could be one of the most indispensable factors before making a purchase. It is always recommended not to get lured by the cheap products for a low price range, as this is an investment for a longer run. The prominence of the brand, the comfortable use of the product and the efficiency of the motor should be the key features before making a purchase. Compromising quality of the product for a low investment price can never yield great results for the future.
So to avoid paying hefty bills every time, one must invest in a quality hair clipper for personal use, which is a perfect blend of all the aforementioned features.


Must-Have Features of Professional Hair Clippers
Buying a hair clipper has a lot to do with the use and place of use. It is very likely that a hair clipper which is convenient enough to be used at home may not suffice the purpose for a professional barber and vice versa. Therefore, the questions that revolve around the barber's mind before buying a professional hair clipper are way different than from a personal user.
The blades that are designed for a professional hair clipper must be detachable to work effectively well for a barber. The needs of the barber are quite versatile as they have to deal with a variant range in the thickness of hair. Buying a versatile hair clipper with different attachment combs allow him to use a suitable attachment for the desired haircut. Also, the detachable blades are antimicrobial which ensure the highest level of hygiene which is a must at a barber's shop. This even allows an easy cleaning and maintenance which even affects the durability in the longer run.
The powerful performance is highly important for the barbers as they need to cut down the hair for a large number of people in less amount of time. As the barbers are well trained and experienced, they are able to offer use sharp blades quite efficiently to offer a cleaner and a desired haircut.
One of the key factors that barbers look into is the durability of the hair clippers, as buying new ones frequently can never serve their purpose. The clippers break down consistently and require consistent maintenance to work well in the longer run. So, a barber needs to invest in a quality brand, which can withstand the rigors of cutting hair continuously for a longer period of time.
Last but not least, the barbers generally prefer hair clippers with long cord length which is handy to use for longer hours without fail. The cordless clippers always have the possibility of dying out in between the hair cutting, which is annoying for the barber as well as for the client. Secondly, recharging batteries time and again or having a whole lot of additional charged batteries is a difficult task to maintain a professional barber.
So, a professional hair clipper for the use in a professional salon has to be a highly effective and durable machine, which offers high efficiency for a clean haircut.
How To Differentiate a Hair Trimmer And a Clipper
For an advanced grooming and a neat and clean appearance, the trimmers and clippers go hand-in-hand at a professional salon. Also, the ones who are aware of their differences and users prefer to buy both for personal use as well. Majorly both are associated with the function of cutting down hair, yet there is a difference in the way these work.
Hair Clipper And Its Usage:

A hair clipper is a larger tool with larger width and length, which is designed to cut hair which is longer in length and high in volume. It is often used on a larger area of the body such as the head for a safe use. It performs the majority of the task when it comes to cutting down hair and has a new hairstyle. These are the first essential tools, which a barber starts off with to cut down hair along with scissors and other traditional cutting tools. Hair clippers are even great to be used on spots with larger bits of hair for the desired hairstyle. It cuts out a good amount of hair at one time and can even be used on the chest where a large amount of hair is found. The blades found in the clipper could be adjusted on the basis of the amount of hair to attain the desired length.

Hair Trimmer And Its Usage:

A hair trimmer is also essentially designed to cut down hair but works with more precision to offer neatness. It is generally used for the detailed work, which is required on the edges such as the back of the neck, around the ears, around the side areas, beard, and mustaches. It is generally used after the hair clipper to provide extra finishing to the work done by the clipper. These are designed to offer more focus and precision in work and are used at the spots, which need an extra effort to shave off some bits of hair. It goes closer to the skin and is recommended for shorter hair growth. With a small touch, the area gets cleared out finely and shows negligible signs of hair growth. It is typically smaller in length and could be used for sensitive spots of cleaning. A trimmer needs to be held more carefully to avoid any nits and cuts as it gets closer to the skin, so its handling and usage is a technique to be practiced.
Choosing The Right Hair Clipper For Your Hair Type
When it comes to hair clipping, the quality of hair, the length, the volume of the hair, and even the texture are rated highly as different types of hair need different tools to cut them down. But one thing, which is generally ignored by people who buy hair clippers for personal use, is the hair color.
What are the best hair clippers for black hair?
Professional barbers are very well aware of this fact and understand the needs of black hair color and make sure to choose the right clippers for black hair.
YES, Hair Color Is Important…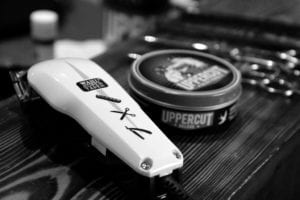 The black hair is supposed to be treated differently than other hair colors for various reasons. The black hair is thick, dense, coarse, and curly and therefore the clippers that are needed to treat such hair are supposed to be different in performance and functionality than that of the ordinary hair clippers. The hair clippers designed for black hair understand the texture and thickness of such hair and offer a really clean and close shave, which is desired. The clippers that one choose for black hair must have the following features:-
A few brands, which are known for black hair, include OSTER, Philips, and Wahl as these guarantee quality products.
A highly durable clipper is needed which can cut down black hair without developing problems even if it used for a consistent period of time.
A highly efficient motor works quite well on black hair and provides the desired style of haircut in less time.
The blades of the hair clipper must be sharp and strong enough to properly go through the coarse or curly hair.
Overall, when it comes down to cutting black hair, the hair clipper must be chosen wisely as it does not only need to satiate the purpose of cutting thick and coarse hair, but also should be capable enough of caring for the scalp and allow easy movement on inherent angles.
A Guide to Cutting Your Own Hair With Clippers
Cutting Down One's Own Hair
Whether one is interested in beauty or not neatness and comeliness are required by all. Hair cutting is one of the quintessential grooming activities for men, which they cannot ignore, unless and until someone is really interested in growing his hair to a long ponytail. But seeing a professional barber every then and now leads to hefty bills which sometimes feel like a complete wastage when one can really afford a professional hair clipper at home.
Today, a plethora of hair clippers are available in the market which caters to different needs and kinds of hair to help people attain their desired styles easily at home. These stylish and easy to use hair clippers demand no prior expertise and qualification and offer great results in less amount of time without much expenditure.
Essentialities To Cut Down Hair Personally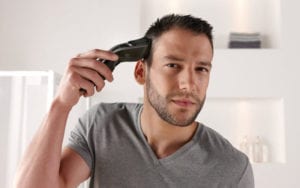 Cutting down hair is definitely a cheaper alternative than going to a professional barber every time, but it demands a few things to be kept in mind before planning to cut down hair personally. The components which one needs before cutting his own hair comprise of tangible and intangible items to help you achieve desired results.
The very first thing which one needs to cut hair is an essential tool to cut down the hair. The market offers a plethora of options to help people cut hair down at their home. From a pair of scissors to hair clippers, and from hair trimmers to razors, one could choose among these as per one's own convenience. Generally, a pair of scissors or a highly effective hair clipper is the common choice among people.
A pair of scissors, which one intends to buy, must be little cuticle-nipping scissors, which minimizes the risk of big mistakes. These are easy to handle, have short blades and helps to thin the hair down comfortably for the beginners. You may also like to have a thinning shear to texturize your hair or thin it out.
A pair of scissors needs to be combined with a thin comb to attain perfection. A small toothcomb is a perfect tool to cut hair, which allows you to part hair properly and hold extra hair which needs to be cut.
A premium quality hair clipper is the next essential, which a man needs to cut his hair down at home. The hair clipper must be bought according to the hair texture and the performance it offers. A hair clipper, which comes with different guards and blades, is preferred for the beginners to ensure easy start and safety.
Hair trimmer is also an essential tool to be accompanied with hair clippers, as these are designed to offer extra finishing at the edges for a cleaner cut.
A person should also have two mirrors before starting a haircut, one needs to be in front and the other to be held in hand to look for precision and neatness.
Apart from these, one must have a haircut apron to cover the body, a comfortable chair to sit in, a vacuum cleaner or a sweeper at hand to clean off the area, a perfectly lighted room for perfect visibility and most importantly a peaceful environment where no one can disturb you while cutting to avoid any horrifying results.
How To Use Hair Clippers At Home
After having assembled all the necessary tools and equipment for a haircut, the real task begins. Before starting a haircut, one needs to analyze which style of haircut would suit his face cuts, and after having selected the style, the process can be started:-
Step: To initiate with, the person must choose the guard size according to his hair length and texture. Every clipper comes with various attachments to cut hair to desired lengths, so choosing the perfect size for different spots beforehand is a must. Generally, people choose to cut the sides shorter than the top. Size 7 or 8 are the longest guard sizes and leave about an inch of the hair on the head; whereas size 4 and shorter to it shows the scalp which increases the vulnerability to sunburn.
Step: The next step is to dry hair is the hair clipper supports this functionality. It is not recommended to cut wet hair to avoid rusting of blades.
Step: Set the guard for the center of the head and hold the clipper with the blades facing downward. Start working in the direction of the hair growth to catch more hair at one go. One must not keep a fast pace to avoid tugging hair or hitting the scalp. A slow pace ensures safety, a comfortable cut, and an even smoothness as well. Try to remove all the hair in one pass by going slowly and steadily.
Step: Once the voluminous part is clipped off, the guard could be removed to turn the clipper on. Now is the time to clean the back of the neck and the area around the ears carefully and slowly to avoid any cuts. For a perfect cleaning, the clipper needs to be moved in the downward direction from the hairline to ensure smoothness. Also, cut a line at the bottom of the sideburns to ensure evenness and start clipping off the extra hair growth carefully. One could also use a hair trimmer to ensure finishing at the edges.
Step: Finally, clean off the clippers using the brush and hair oil that is generally offered in the package.
Enjoy a hassle-free and smooth haircut and get ready to step out in public proudly.
Clipper Techniques To Tapering Hair
A tapered haircut is one of the most popular haircuts among men. To achieve this hairstyle one must have complete knowledge of how to use hair clippers for personal use.
Firstly, a man should know about the guard numbers and their sizes. The '#4' guard is a 1/2-inch guard and cut down the hair to a 1/2-inch length. The lower someone goes in choosing the guard numbers, the lesser is the cutting length. Generally, for a tapered cut, the edges need to be tapered with a lower scale in comparison to the center of the head.
Once the hair is cut to a starting length, tapering starts. If one begins with a #4 guard then gradually he has to move to the next level #3 to form a taper and so on. Using a scooping motion, the hair should be clipped to resemble a gradual progression to the scalp. The progression continues until one achieves the desired length at the edges, which are in complete sync with the overall hair length.
Overall, to have a smooth and clean tapering every time, clippers must be washed and cleaned after every use to retain the sharpness of the blades for a longer run.
How to Properly Maintain Your Clippers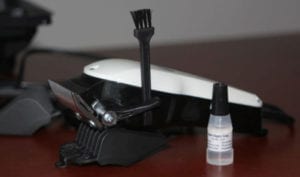 Proper cleaning and maintenance is a usual activity for most of the things of the world and hair clippers are no different. Having purchased for a hefty amount, these should be maintained frequently to ensure desired results for a longer run. Proper cleaning helps in the prevention of rust and dirt on the blades, keeps the blades and guards in shape and maintains the motor efficiency. Cleaning the clippers after every use prevents damaging of hair, scalp and avoids unnecessary pain in the next session. Clipper brushes and oiling are the most used ways of cleaning which even help to ensure healthy hygiene.
How To Clean Hair Clippers?
Some basic cleaning and maintenance tips are enough to make sure that hair clippers stay in working conditions for a longer run. The only thing one needs to make sure is these tips should be followed consistently to leverage the complete worth from the hefty investment:-
The blades need to be properly cleaned using a brush or the cleaning kit, which is generally offered along with the package. All the nooks and crannies can even be cleaned with a hard brush to avoid any dirt build up or rusting of the blades. Loose hairs, debris must be removed off to avoid damage to the blades. One can even blow off the blade area just the way birthday candles are blown out to clean off the blades.
The adjusters or the snap-on clips which allow cutting hair in different lengths become grimy after frequent use. Washing them thoroughly after every use helps keep them neat and clean. Soak them in hot soapy water and scrub them with a cloth to clean off all the dirt for further use.
The blades must be aligned perfectly straight every time. Holding the clipper sideways and looking down at the length of the blades helps one to check the alignment. If any of the blades is crooked or lose it can produce nicks and cuts, which do not offer smoothness and neatness. Such blades could be altered with a screwdriver to wiggle them back into place.
Oiling is a necessary tip to help effective and smooth working of a hair clipper. Applying the oil every time before using maintains the smoothness of the blades and avoid breaking them down. A few drops on the corners in the middle are enough to smoothen the operation.
If the person maintains his hair clipper well then changing blades won't' ever be an issue for him. But if in case, the hair clipper drops down accidentally and the blade's teeth get damaged or chipped, then new blades can be easily inserted in place, provided there is an extra blade on hand.
The professional barbers must ensure to spray the blades quite often to protect the client from potential burns. Spraying also ensures disinfecting the blades and maintains a healthy hygiene for different users. It even helps in reducing wear and tear on the blade and keeps it away from rusting.
When one invests in a high-quality clipper, the responsibility to clean and maintain it doubles. And when it comes to caring for your hair, ensure persistent cleaning to keep the tools working in an effective condition.
Sharpening The Hair Clippers
The hair clippers often come with self-sharpening blades, which never require sharpening manually. They demand high cleaning at regular intervals and work well for a longer period of time. But when it comes to manual sharpening then one needs to assemble the following equipment for an effective sharpening:-
A Screwdriver
A Small brush/toothbrush
Cleaning product
A Sharpening Stone
A Magnet (optional)
To sharpen the hair clippers, unscrew it using a screwdriver and take out the two blades form the clipper. Then, clean the blades using a brush to remove off all the hair, debris and especially rust to ensure cleaner sharpening. In the next step, use the magnet or hold the blades steadily in the hand to use them on the sharpening stone. The grain of the honing stone or water stone is coarse to varying degrees, so before sharpening the blades one must check the exact sharpening scale of the blade manufacturer. The general acceptance value is 4-6000. The blades are then run facing forward across the stone for 6-12 times unless the desired sharpness is achieved. The process is repeated for each side to attain the desired sharpness.
Once the blades are sharpened, these are reassembled in the clipper. One must oil the blades for a minute in working condition so as to avoid any snagging or pulling of hairs.
Oiling The Hair Clippers
Oiling the hair clippers ensure smooth running for many years. Consistent oiling prevents a breakdown of the blades and offers neatness and comeliness in haircuts. To oil a hair clipper, one must assemble:-
Clipper oil
Clipper brush
Towel
To start oiling, one must clean the clipper before oiling the blades to ensure the interiors and the surface are clean from any hair, debris, and dust. Using a brush and a towel, one must wipe off all the excess from the exposed areas. To apply oil, turn the clipper on to help the oil penetrate into the blades. Apply oil on the top and sides of the blade and focus on the area in between the blades. Keep the clipper on in working condition for 20-30 seconds to allow effective penetration. Finally, turn the clipper off and wipe off excess oil to avoid it sticking to the hair.
The maintenance of the blades and the clipper is as essential as grooming of one's personality. So, do not compromise on these healthy habits to ensure longevity and durability.
Professional Hair Clippers Comparison Chart
| PRODUCT | PRICE | WEIGHT | DIMENSIONS | BATTERY RUN TIME | CHARGE TIME | VOLT |
| --- | --- | --- | --- | --- | --- | --- |
| Oster Ultimate Package | $$$$$ | 9 lbs | 12 x 9 x 6 inches | up to 1 hour | 2 hour | 110 V |
| Andis Supra ZR Cordless Ion Clipper | $$$$ | 1 pounds | 1 x 1 x 1 inches | up to 2 hour | 2 hour | 100-240V |
| Panasonic ER-1611-K Professional Hair Clipper | $$$ | 1.2 pounds | 6 x 4 x 8 inches | up to 50 minutes | 1 hour | 100-240V |
| Andis Men's 5-Speed Hair Clipper Kit | $$$ | 2 pounds | 5 x 1 x 5 inches | up to 1 hour | 1 hour | 120 V |
| Oster Classic 76 Universal Motor Clipper | $$$ | 2 pounds | 2 x 2 x 7.5 inches | up to 1 hour | 1 hour | 100-240V |
| Remington HC4250 Shortcut Pro Self-Haircut Kit | $$ | 1.2 pounds | 9.8 x 7 x 2.5 inches | 40 Minutes | 4 Hours | 110 V |
| OSTER Fast Feed Adjustable Pivot Motor Clipper | $$ | 1 pounds | 6 x 3 x 10.5 inches | 1 hour | up to 2 Hours | 110 V |
| Andis T-Outliner Trimmer with T-Blade | $$ | 11.2 ounces | 1.8 x 1.5 x 5.2 inches | up to 1 hour | 2 Hours | 120 V |
| Wahl Professional 5-Star Balding Clipper | $ | 9.6 ounces | 1.8 x 1.8 x 5 inches | up to 1 hour | 2 Hours | 120 V |
| Philips Norelco Beard & Head trimmer Series 5100 | $$ | 1.1 pounds | 8.3 x 9.2 x 2.6 inches | 70 Minutes | 1 Hour | Automatic voltage 100-240 V |
The Final Note:
The market has a wide range of best hair clippers for men which offer desired and effective results for the long run and help people save money rather going to professional barbers every time. The hair clipper reviews from people provide different ratings to various brands, but the most suitable product depends on someone's hair texture and price range.
Using a hair trimmer along with a hair clipper is quite prominent and is mostly used by the professionals to offer much neater and cleaner haircuts. The professional barber hair clippers are generally more expensive and powerful than the personal hair clippers but do not overpower in terms of quality and desired results, provided one understands how to use hair clippers properly at home.
Having a clear understanding of the guards and their sizes, along with maintenance of healthy cleaning habits of blades and clippers, a person can definitely achieve excellently professional results at home.