Men are typically thought to be less concerned about grooming. The rough-and-tough appearance that society has constructed of them means they are almost expected to be more tolerant (and less bothered) about how they're perceived.
The scenario depicted in the previous paragraph has one problem. It's outdated by almost a decade. The past ten years have seen such a radical shift in male personal care culture than products like the best nose hair trimmer are now part of a $70 billion male grooming industry.
But the fact that men have started to take their noise hair seriously shouldn't surprise anybody. None of us likes to have a veritable forest sprouting out of their nostrils. Apart from attracting more dust, it impacts your appearance and, by extension, your confidence.
Want to get rid of it safely? Then check out our nose hair trimmer reviews.
PRODUCT
DETAILS

Philips Norelco NT3000/49 Nose Hair Trimmer

Price:

$

Design of blades:

Circular

Waterproof:

No

Body part:

Nose, Ears and Eyebrows

Attachments:

6

View On Amazon

FlePow Ear and Nose Hair Trimmer Clipper

Price:

$

Design of blades:

Dual-edge

Waterproof:

Yes

Body part:

Eyebrow, facial hair, nose, ear

Attachments:

1

View On Amazon

Conair Battery-Powered Ear/Nose Trimmer

Price:

$

Design of blades:

360* beveled

Waterproof:

No

Body part:

Nose, ear, eyebrows, neckline, sideburn

Attachments:

2

View On Amazon

Panasonic Nose Hair Trimmer

Price:

$

Design of blades:

Dual-edge

Waterproof:

Yes

Body part:

Nose, Ears

Attachments:

–

View On Amazon

Laxcare Ears and Nose Trimmer

Price:

$

Design of blades:

Dual-edge

Waterproof:

No

Body part:

Nose, ear, eyebrows

Attachments:

–

View On Amazon

Micro Touch MAX Hair Trimmer

Price:

$

Design of blades:

Circular

Waterproof:

No

Body part:

Nose, ear, eyebrows, sideburn

Attachments:

–

View On Amazon
Best Nose Hair Trimmer Reviews – Top Picks
1. Philips Norelco NT3000/49 Nose Hair Trimmer
The Philips Norelco hair-trimmer is a multi-purpose device that works on your nose, ears, eyebrows, beard and even sideburns. Its package includes a trimmer, two eyebrow combs and a detail trimmer. You don't need to worry about where to store all the accessories as a soft travel pouch is included in its package.
As far as your safety is concerned, you can count on this unit's blades to not do any skin damage. They are shielded by a casing that prevents the blades from coming into direct contact with your skin. The stainless steel coating of the blades further enhances their utility by saving them from going blunt.
Since this model is fully washable, there is no need for you to take any special measures to clean it. Its soft rubber touch grip gives maximum control and reduces the chances of the trimmer slipping from your hand and causing damage to your skin.
2. FlePow Ear and Nose Hair Trimmer Clipper
Every feature of this ear and nose hair trimmer oozes quality. Its double-edged spinning stainless steel blades offer both dry and wet capability. They have a cap that protects your skin and a trimmer head which you can remove to remove the hair stuck inside easily.
It boasts a 6,500 RPM motor whose quiet operation won't give you any clue about its sheer power. The unit comes with an IPX7 rating, which means that you can safely use it in a shower. Equally useful is its ergonomic design which makes this hair trimmer exceptionally easy to grip and use.
As if the features mentioned above weren't enough to make your mind in favor of this product, its huge battery life comes to the fore. The single AA battery which powers this unit provides it with enough power to last for the next six months.
3. Conair Battery-Powered Ear/Nose Trimmer
There aren't many companies out there that have been churning out high-end personal care items for as long as Conair. This battery-powered hair trimmer serves as proof. It is an innovative product whose diamond-shaped bevel and rounded design offer safe and effortless ear and nose hair trimming.
The design of this model helps you reach all those hard-to-reach spots that you cannot reach with a standard razor. The optional attachments that you can get by paying a little extra help you in other ways, like lining up your neck hair and styling your sideburns.
That isn't to say that you've to cough up extra money to enjoy the best that this model has to offer. It is a multi-purpose device that you can use on your nose, ears and even eyebrows. Apart from a travel pouch, its package includes a shaver and a detailer attachment as well.
4. Panasonic Nose Hair Trimmer
Here is another brand whose name convinces users to trust its products. Models like this are the reason why. Panasonic has equipped this device with dual-edged blades whose utility doesn't end with taking care of nose and ear hair. You can use it to trim your mustache, beard, and even eyebrows.
Despite its multi-faceted usefulness, this hair trimmer reserves its best for your nasal hair. Its curved, hypoallergenic blades are designed in a matter to match the contours of your nostrils. That is what allows them to do trimming safely and precisely, without pulling hairs or irritating skin.
You won't have to worry about this product leaving loose hair in its wake. Its smart vacuuming system quickly sucks all the stray hair into its chamber. The hair will remain there as long as you don't manually open the chamber to clean it. So your bathroom's floor and sink will remain hair-free.
5. Laxcare Ears and Nose Trimmer
If you're looking for a quality model at an affordable price, this ear and nose hair trimmer might fit the bill. It relies on curved, hypoallergenic blades to trim unwanted hair. The dual-edged shape of the blades allows them to do their job without damaging your skin or pulling the hair.
Although not as multi-functional as some of the other models in this review, this ear and nose hair trimmer can still take care of your eyebrows. The circular blade action and rotary blade system of this device join their forces to provide an efficient and safe hair trimming experience.
The fact that it is cordless doesn't mean that you'd have to recharge this trimmer every night. It is capable of holding enough power to last months between successive charges. Laxcare further rebuffs any doubts you may have about this model by warrantying it for 18-months.
6. Micro Touch MAX Hair Trimmer
Despite being one of the newer trimmers on the market, the Micro Touch MAX is already making waves with its features. It boasts a unique shape that allows this device to get where other trimmers can't. The user-friendly size of this product allows you to hold and maneuver it without straining your wrist.
The device is fairly straightforward to use. Install a battery, turn its power switch on, and you can trim all those unwanted hairs. The addition of light is a very nice gesture as it allows you to spot all those hair protected by darkness. You also have the option to increase its power when dealing with stubborn hair.
Also included in its package are two attachments. The first of them lets you trim your mustache and eyebrows, whereas the second is big enough to line a light beard. Its non-slip rubber grip gives you an assured control over its movement.
Nose and Ear Hair Trimmer Buying Guide
Although you do need a hair trimmer that could help get the job done, that doesn't mean it must pluck out every single nasal hair. Some of those hairs serve as a defense system for the human body. They maintain moisture in the air that we breathe and keep harmful debris out of our system.
Put simply, what you need is a product that could keep the hair from turning into a bushy garden. Here's how you can find it.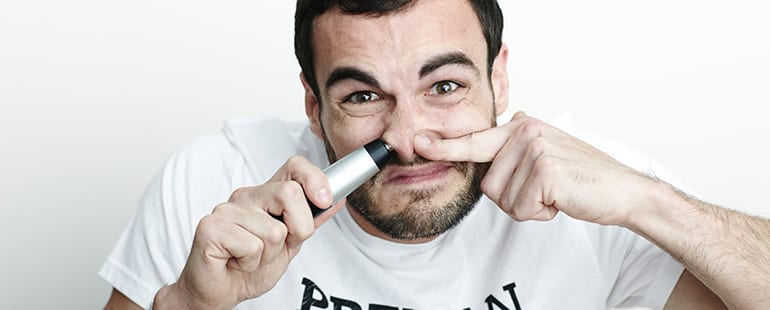 7 Considerations When Buying a Nose & Ear Hair Trimmer
Here are some of the essential questions you need to ask yourself before you start searching for a new nose and ear hair trimmer:
What Tasks Will I Be Using My Nose And Ear Trimmer For?

Of course, you're going to use it to trim your nose and ear hair. But would you mind paying extra for a product that could help fine-tune your beard, trim your mustache and line your eyebrows? There are a lot of versatile trimmers out there who don't spend their entire lives staring down your nasal cavity.

Multi-purpose nose and ear trimmers cost extra, as we have already stated, but they justify their high initial asking price with more utility in the long run.

Should I Go For An Electric Or Manual Hair Trimmer?

Although it's your choice whether you decide to go for electric or manual hair trimmers, you should know that the majority of users prefer electric models. They are easy to use, have blades that safely trim your hair and make a quick, clean cut.

Manual hair trimmers might have a low initial asking price, but they are more challenging to use. They also require you to squeeze the trigger manually every time you want to trim a piece of hair. That makes them pretty difficult to use.

Will I Be Using It At Home Or During My Travels Around The World?

The answer to this question will help determine the voltage you want the trimmer to work on. Most inexpensive models work on either 110v or 220v. That limits their utility to a specific location or a country, and might make them useless for people who frequently travel.

If you're one of those people who are called "frequent flyers", make sure you get a model with worldwide (110v and 220v) voltage.

What Type Of Skin Do I Have?

Not all nose hair trimmers are meant to go over sensitive terrain. So if you don't have a rough-and-tough skin, better get a product with hypoallergenic blades. They help you remove nasal hair without causing any infection or allergic reactions.

What Material Is The Trimmer's Blade Made Of?

Few factors separate top-rated hair trimmers from the also-rans as neatly as the material of construction of their blades. All of the best-selling models have their blades made of either silver or carbon-coated steel or stainless steel. These materials don't snag the nose hair and save you one of the most excruciating experiences you can experience in life.

Will There Be An Electric Outlet Nearby?

Provided you're always going to use your hair trimmer in your personal washroom, you can opt for a wired hair trimmer. These products are more powerful and use their extra power to help you get the job done in less time.

However, if you're going to trim your nasal hair in an airport's washroom, at a loo on the bus stop or in a remote working station, wired units won't come handy. Battery-powered models will undoubtedly be your saviors in such scenarios.

How Will I Clean It?

If you're one of those people who hate cleaning, go for a waterproof trimmer. You can use such products in the running shower and clean their blades under a running tap. That would reduce the chances of bacteria accumulating in the tip of the blade and causing an infection. Also, waterproof trimmers tend to have a sturdy body as all their parts are tightly fit.
6 Important Nose Hair Trimmer Features and Specs
To get the best nose and ear trimmer for yourself, don't forget to look for these features:
Double-Edged Blade System:

Make sure the model you're going to purchase comes with a double-edged blade system. These blades trim hair without plucking them to provide a painless and comfortable experience.

Integrated Vacuum System:

Different Nose and ear hair trimmers use different methods to clean your nostrils. The ones that use an integrated vacuum system are recommended because they get rid of unwanted hair and leave a neat and tiny bathroom behind.

Rechargeable Batteries:

As you can see by going through our cordless hair clipper buying guide, products that come with batteries provide two highly sought-after benefits. They save you from the trouble of having to buy a replacement every now and then. And they have a USB-port to let you charge them with your smartphone's charger.

Waterproof:

Waterproof nose and hair trimmers provide the best of both worlds. You won't have to worry that accidental contact with water may ruin them. That allows you to use running water to clean their blades.

Ergonomic Design:

Ergonomically-designed models minimize the risk of one wrong twist of the hand resulting in a laceration or a painful snag. So, just like when you're choosing a body groomer for men, you need to make sure that the product fits the contours of your grip when choosing a nasal hair trimmer too.

LED Light:

Trimmers that come with LED lights intensify the light when we're applying too much pressure. That way, they let you know when you're over-enthusiastic and save you from damaging your skin.
Why To Avoid Plucking Nose and Ear Hairs
Here's why plucking your nose or ear hair is a terrible idea:
Why You Should Avoid Plucking Your Nose Hair?

At the cost of sounding technical, we have two types of nose hair.

The first are those which exist deep in our nose and are known as cilia. Their main job is to move back and forth and capture dangerous particles in mucus. Cilia then passes on these dangerous particles towards our throat, where we can either (safely) swallow them or cough them up.

The second type of nose hair that is sometimes visible from the outside is called vibrissae. They exist in front of the cilia and act as their shield by preventing large particles from getting past them. These hairs don't move back and forth, so we have to sneeze or manually blow the bigger particles out.

In addition to keeping dangerous particles from entering our body, both the types of nasal hair are responsible for adding moisture to the air that we breathe. That moisture is necessary for the proper functioning of our respiratory system.

Another reason why plucking your nose hair is a bad idea is that it can cause infection. In the best-case scenario, this infection will 'only' cause overgrowth in nasal hair. In the worst-case scenario, it will trigger the nerve center in your brain and cause sepsis.

Why You Should Avoid Plucking Your Ear Hair?

Similar to their counterparts in your nose, ear hairs also come in two types.

The first of those exist deep inside your ear and cannot be seen from outside. Inner ear hairs are extremely important as they let you hear and maintain your balance. Next come the external ear hairs whose quantity increases with your age. Their job is to keep dust and debris out.

While the external ear hairs aren't half as useful as their cousins lying just inside your ear cavity, that isn't to suggest that you should start plucking them out the moment you're in front of a mirror. For just as it is the case with your nasal hair, plucking your ear hairs can also cause infection.

It might not be as dangerous as the infection that might come from tweezing nasal hair, but we can guarantee that it would be equally painful. Hence why you should spare yourself from this needless agony by trimming your ear hairs.
Reasons to Trim Your Nose and Ear Hairs
Following reasons might make up your mind in favor of trimming your nose and ear hairs:
It Isn't Painful
Since it doesn't pluck your hair, the process of trimming your nose and ear hair is almost always pain-free. You won't have to deal with any bumps, damaged blood vessels, or swollen nostrils.
It Makes You Attractive
According to a recent survey, more than 46% of women state that they are extremely less likely to talk to a man whose nose hairs are sticking out. All of them claimed that they'd rather date a guy with terrible breath.
It Is Easy
In contrast to, say, the best hair cutting shears, a hair trimmer doesn't give you the choice of how long or short you want to cut your hair. It trims everything to one standard length. This lack of choice makes these devices pretty straightforward to use.
It Leaves Hair Behind
Nasal hairs are essential as they save your body from harmful debris and maintain moisture in the air that you breathe. Ear hairs, meanwhile, block dirt and debris and maintain your sense of sensitivity. You shouldn't remove all of them if you wish to remain healthy.
3 Advantages a Nose Hair Trimmer has over Nose Hair Scissors
Here's why you should prefer nose hair trimmer over nose hair scissors:
Specially Designed For Nose Hair

As you already know, nose hair trimmers are designed to perform only one task: trim that forest sprouting out of your nostrils. Try as much as you want, but they won't come handy for household tasks. Their single-purpose utility forces you to use them only for what they were designed to use for.

That isn't the case with nose hair scissors. They are a multipurpose tool that you can use to cut anything and everything in your home. And if you do use scissors for performing household tasks, their contact with different substances will raise the risk of them infecting your nose.

Won't Cause Pain

There are two ways using nose hair scissors might end up in a painful experience. First, a mere slip of the hand could result in the sharp edges of a scissor puncturing the mucus or cutting the skin. Second, since they work by pulling hair out from the root, scissors might end up leaving small cuts or rashes behind.

None of these scenarios are likely to happen with a nose hair trimmer. These devices merely trim your hair to a standard length and leave the remaining behind. Their blades sit inside a metal guard or plastic that prevents them from coming into contact with the skin.

Easy To Use

Whether you're going through our stubble trimmer reviews or selecting any other product for your needs, chances are that you'd always look for a product that is effortless to use. Nasal hair trimmers fit this criterion. Scissors don't.

Unlike trimmers who cut all hairs to one standard length, scissors operate at your beck and call. They require you to decide the length of hair that you want to retain. That isn't the case with trimmers which cut all hair to one standard length. That is why they're easy to use.
All You Need to Know About Trimming Your Ear & Nose
How to Trim Nose and Ear Hair in 3 Easy Steps
Follow the instructions to trim your nasal and ear hair effortlessly:
Step 1: Clean Your Nose And Ear
Before you start trimming hair, make sure you have blown your nose and removed any wax sitting in your ear with a cotton bud. Failure to do this will make trimming messier and much more difficult. Then wet a piece of cotton ball and use it to clean the inside of both nostrils.
Step 2: Clean The Trimmer
As long as you aren't using it for the first time, cleaning your trimmer is recommended to ensure that the hair particles which remained stuck from the previous cleaning session won't come in the way and ruin the upcoming trimming job. Make sure to clean the trimmer with running water.
Step 3: Trim Your Nose And Ear
Using a trimmer is effortless. Simply turn it on and keep on trimming until you're satisfied. You don't need to worry about excessive trimming as these devices cut all hair to a standard length. That is to say that they cut what is necessary and leave the remainder intact.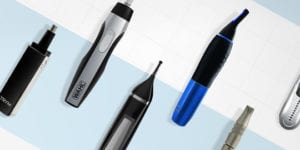 Methods to Avoid While Removing Nose and Ear Hair
You should avoid these hair removal techniques for your safety:
Using Hair Removal Cream:

Experts tell us that hair removal creams might burn the mucous membranes and delicate skin inside the nostrils. The cheap ones among them might also release toxic fumes in your nasal cavity, which you can inhale. That's why you should avoid using hair removal creams inside your nose at all costs.

Waxing Your Nose Hair:

Apart from the expected pain that will arise when you pull out your hair, the potential health risks associated with waxing your nose hair should also discourage you from using this method. Waxing everything away opens up our nasal cavity to the dirt and debris in the environment, thereby making it more likely for our body to pick up germs.

Plucking Your Nose Hair:

What could potentially go wrong by plucking your nose hair? As it turns out, everything. Apart from the bolt of pain that will run through your body the moment you pluck a hair, you might unintentionally end up causing skin rashes. Plucking your nose hair also has the potential to damage sensitive tissues.

Using Pointed Scissors:

As common sense tells us, many things could go wrong when you're using a pair of pointed scissors inside your ear or nose. These scissors have sharp points that might come into contact with your skin. The encounter might end up puncturing delicate mucous membranes, which are very important for our health.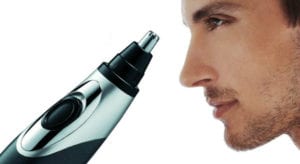 Is It Safe To Use A Nose And Ear Hair Trimmer?
There are many reasons why trimming your nose and ear hair is the safest option. This method allows you to shorten the most visible hair, the ones that others can see from outside. It does nothing to harm the nasal and ear hair that are tucked deep inside their respective cavities and perform essential functions to maintain our health.
Secondly, while trimmers do come with blades, they are wrapped in a plastic or metal covering that prevents the blades from coming into contact with your skin. Even when you press the trimmer, it is their covering that will press against your skin, whereas the blades won't be able to go past the hair. This arrangement makes it extremely less likely that the trimmer would hurt your skin.
How Often Do You Trim Your Nose And Ear Hairs?
Unfortunately, there's no single answer to this question. The length of time after which you have to trim your nose and ear hair depends on the growth rate of those hairs. Since there's no way we can calculate how fast your hair will grow back, giving a ready-made answer is almost impossible.
Having said that, we can give you some clues. Most people who have hair trimmers use them to remove their nose and ear hair once every two weeks. Though there are users who don't take the trimmer out of their drawer before a month has passed.
Feeling confused? Then you might want to apply this basic rule of thumb: trim things down before they become easy to notice. That would make sure that before the hairs poke out and start to embarrass you in front of others, you'd have taken care of them.
Maintaining Your Nose Hair Trimmers in 6 Steps
Is your nose hair trimmer behaving dull in the last few cleaning sessions? It's a sign that it could do with some cleaning and maintenance work. Here's how you can do that.
Step 1: Empty The Trimmer's Hair Bin
Most trimmers store the clipped hairs inside a small compartment to stop them from falling all over the bathroom floor and sink.
Provided you have a model who has one of these compartments, follow the instructions given in its manual to detach and empty it. Make sure that no hair remains in the compartment once you're done cleaning it.
Step 2: Brush The Compartment
After emptying the compartment, brush it to remove any remnants of hair. You can use an old, worn-out toothbrush to remove dirt and hair that may have gathered on the clippers.
Step 3: Uncover The Blades
Blades of a trimmer usually have a plastic or metal guard. Removing it is necessary as you need to clean the blades from within, which can't be done unless they're fully exposed.
Step 4: Clean The Blades
Almost all trimmers come with a blade brush that you can use to remove any hair or dirt stuck in the blades. If your product didn't come with one, you can use an old toothbrush.
Step 5: Wash The Blades
Take a measuring cup and fill it with ¼ cup amounts of rubbing alcohol. Pour the alcohol over the blades. You should see hair and dirt falling into the sink. Stop adding more alcohol once it runs clear, an indication that the blades are now clean.
Final Step: Oil The Blades
Once the blades are dry, lubricate them with the oil that might have come in your trimmer's kit. If you don't have that, you can use a few drops of olive oil to lubricate the clippers. Then reassemble the trimmer.
FAQ's and Answers
Q: Why do my nose and ear hair grow so fast?
A: According to experts, your hormones are to blame. Hairs in our nose and ear are sensitive to testosterone levels in our body. As we age, the sensitivity tends to increase, and so does the growth of hair in our nose and ear. That is the reason why men on the other side of 40 have to trim their nasal and ear hair more frequently.
Q: Does trimming your nose hair make them grow faster?
A: While some people do experience this problem, science tells us that trimming your nose hair doesn't have any effect on their growth rate.
Q: Is plucking your nose hair dangerous?
A: At the cost of sounding apocalyptic, plucking your hair does cause an infection, which, in the worst-case scenario, can become really dangerous. That happens when the space left behind by plucked hair is filled by germs, who can then cause an infection in veins leading to the brain.
The resulting infection might allow these germs to travel to and from your brain and induce brain abscesses or meningitis.
Don't forget to visit our homepage to check out more men's grooming products.
Best Nose Hair Trimmer Comparison Chart
| PRODUCT | PRICE | DESIGN OF BLADES | WATERPROOF | BODY PART | ATTACHMENTS |
| --- | --- | --- | --- | --- | --- |
| Philips Norelco NT3000/49 Nose Hair Trimmer | $ | Circular | No | Nose, Ears and Eyebrows | 6 |
| FlePow Ear and Nose Hair Trimmer Clipper | $ | Dual-Edge | Yes | Eyebrow, facial hair, nose, ear | 1 |
| Conair Battery-Powered Ear/Nose Trimmer | $ | 360* Beveled | No | Nose, ear, eyebrows, neckline, sideburn | 2 |
| Panasonic Nose Hair Trimmer and Ear Hair Trimmer ER430K | $ | Dual-Edge | Yes | Nose, ear | - |
| Laxcare Ears and Nose Trimmer | $ | Dual-Edge | No | Nose, ear, eyebrows | - |
| Micro Touch MAX Hair Trimmer | $ | Circular | No | Nose, ear, eyebrows, sideburn | - |
Conclusion
There are many reasons why most users prefer nose trimmers over scissors and other expensive hair removal treatments. Apart from being easy to use, the best nose hair trimmers are perfectly safe to use and boast a battery that lasts months between successive charges.
Provided you've your doubts about this claim, scroll back to our nose hair trimmer reviews. There you'll find that these products don't limit their utility to removing unsightly hair. A majority comes with high-end vacuum cleaning systems that make sure that they don't leave a hair in their wake.
What's more, to give you the best value for your money, these units won't spend their entire lives staring down your nasal cavity. Almost all come with attachments using which can trim your eyebrows, sideburns, mustache, and even beard. What more can you ask for!